Momentum Plus is a paid membership that provides Momentum users with exclusive benefits and advanced features, making it an ideal choice if you're looking to supercharge your productivity and customize your Momentum experience.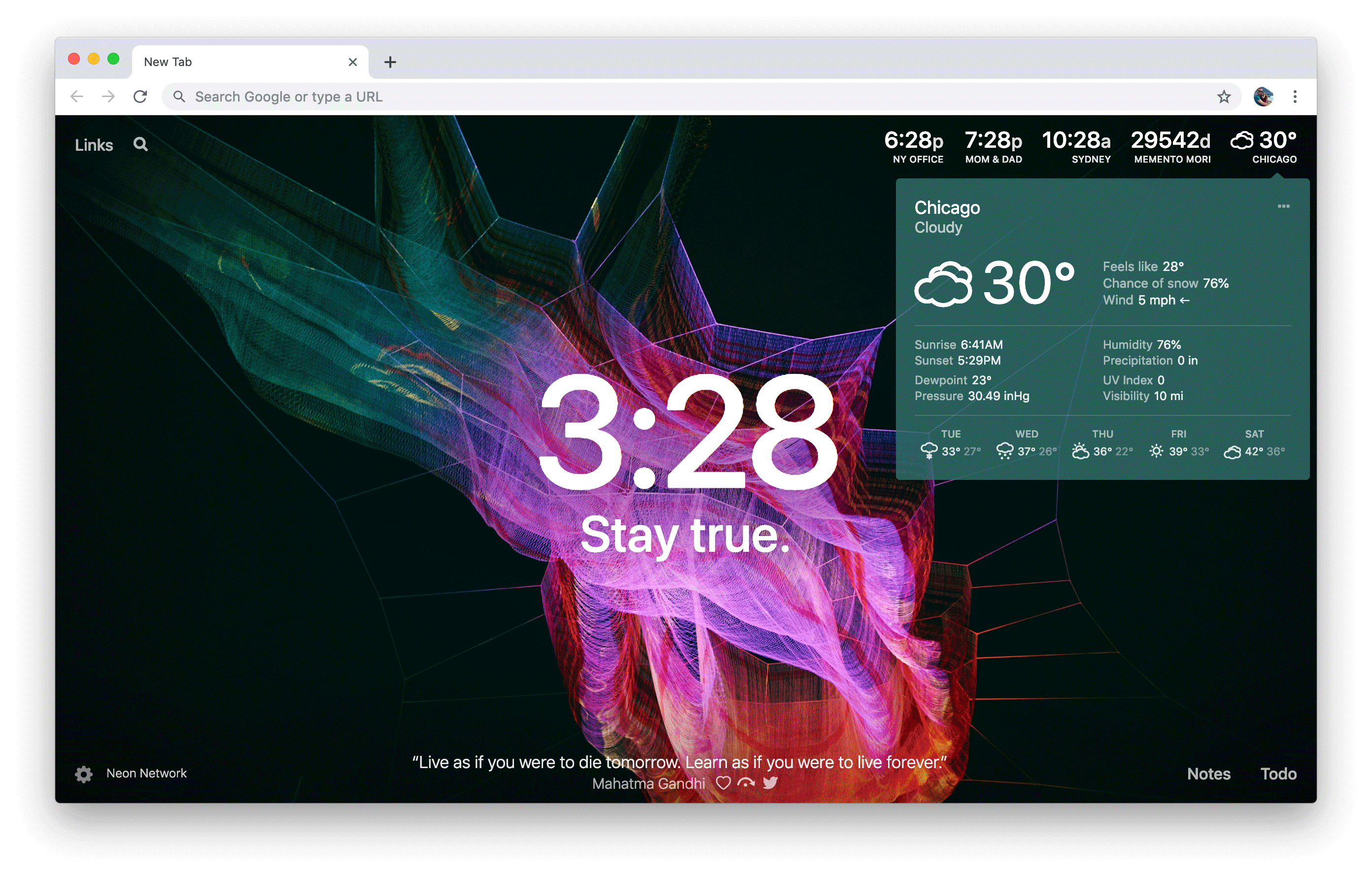 This article will guide you through the various features, integrations, and customization options that Momentum Plus offers, helping you level up your productivity and make the most of your membership.
Feature breakdown
After upgrading, Momentum Plus members gain immediate access to all of the following features:
Ask AI
With Ask AI, you can brainstorm, create outlines, generate journal prompts, and flesh out your ideas in your notes.
Autofocus
Autofocus connects your active Todo list to your Focus, so whenever you complete your Focus it is replaced with the next item in your Todo list.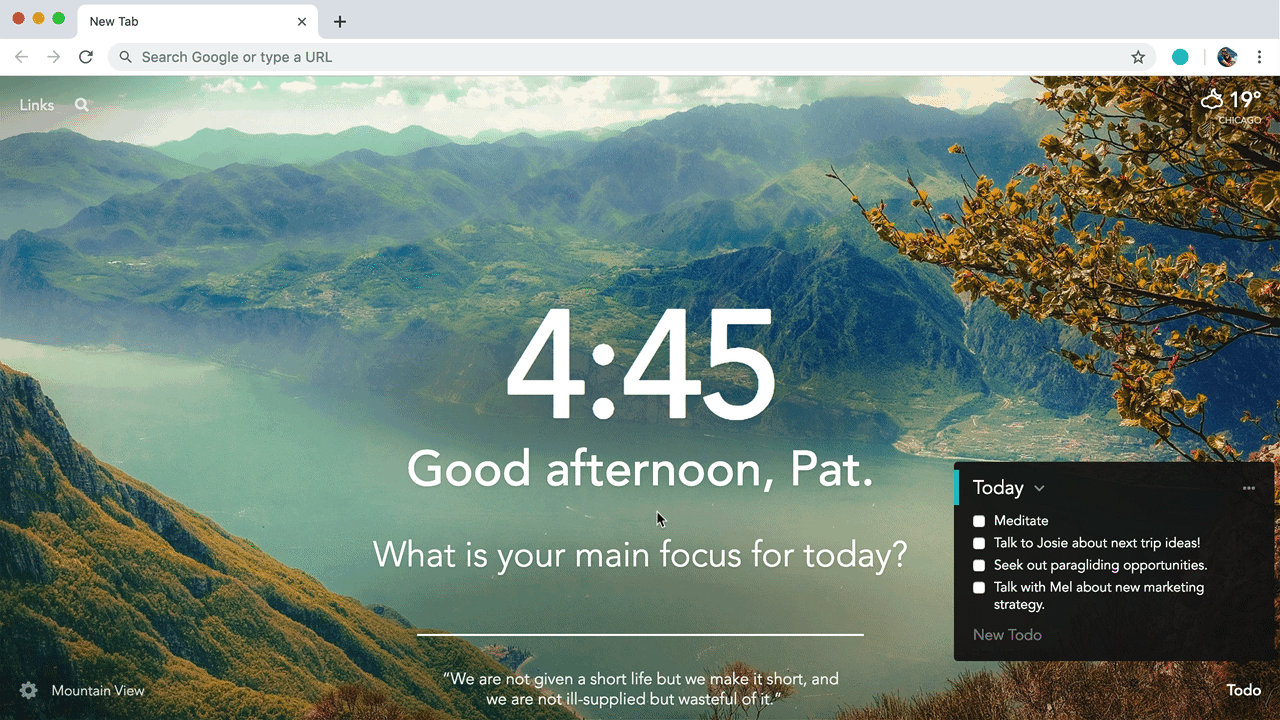 Countdowns
Clearly see the number of days left until your important dates, meetings, or events right on your Momentum page.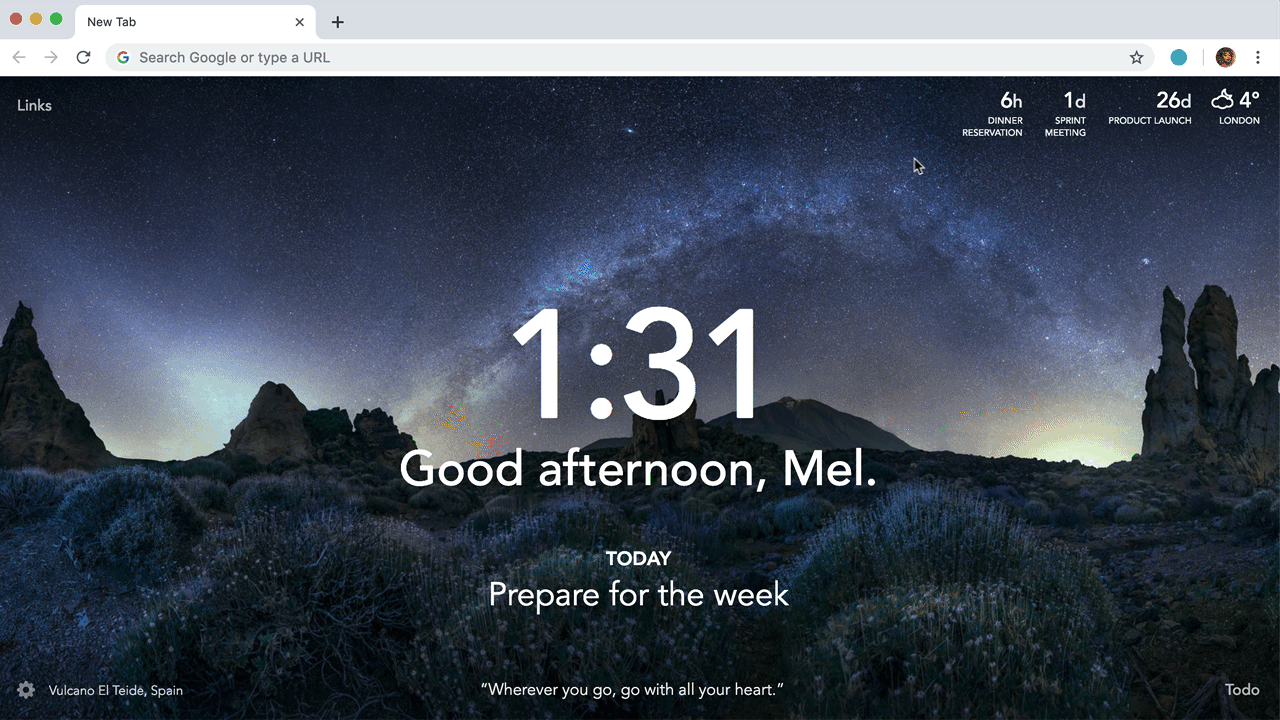 Custom Photos, Quotes & Mantras
Personalize Momentum by adding the photos, quotes, and mantras that inspire you most! Plus members also have the ability to skip or change their daily photo, quote, and mantra whenever they want.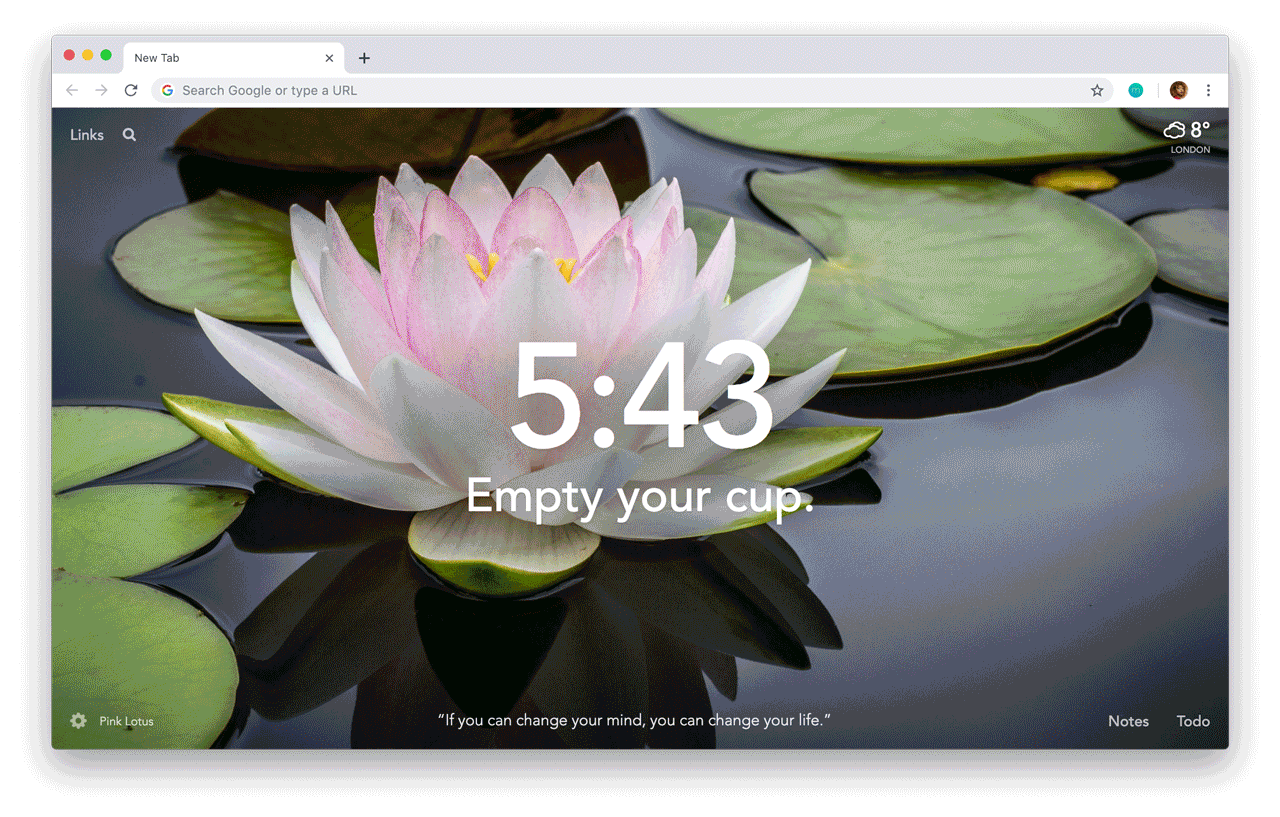 Learn more about Custom Photos, Mantras & Quotes
Custom Schedule for Balance Mode
Momentum's Balance mode helps you manage your work and personal time, by automatically hiding features that may distract you (Todo, Focus, Notes, etc.) during your downtime. Use Balance mode to provide yourself with a visual reminder of when it's time to rest or focus on other important areas of your life.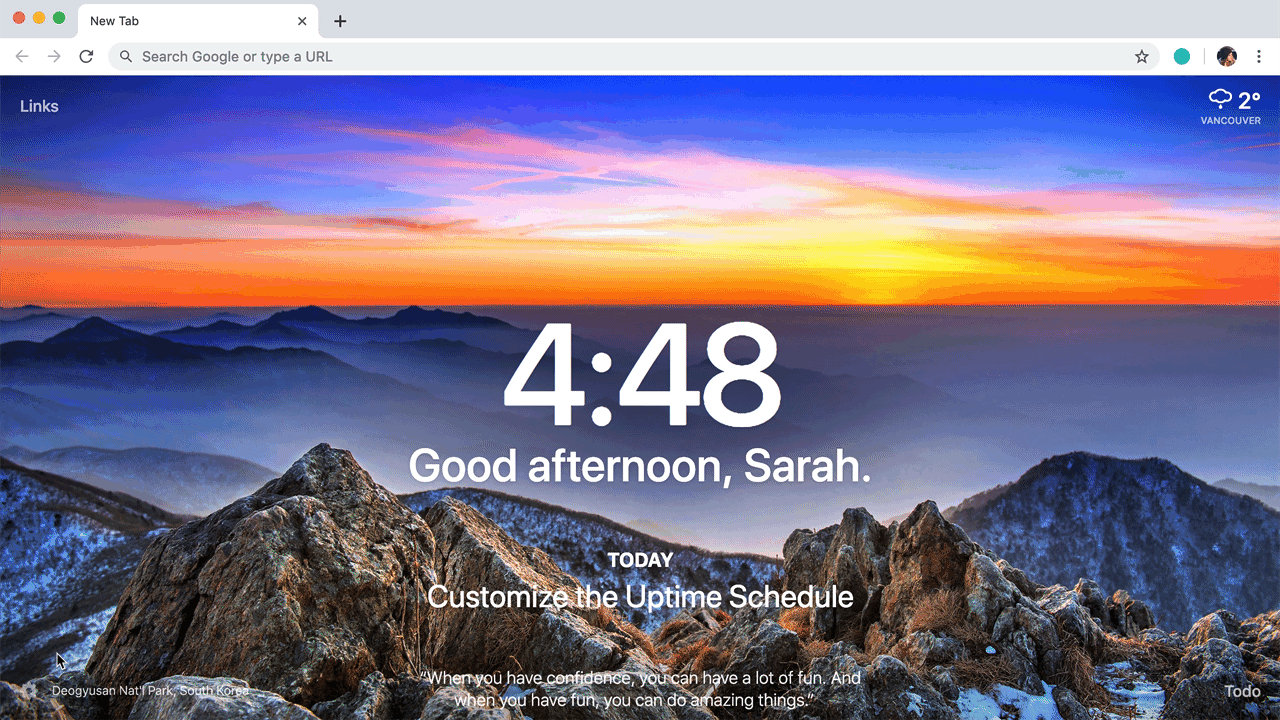 Learn more about the Custom schedule for Balance mode
Extra weather info
See more detailed weather info on your Momentum page, including the hourly forecast, the chance of rain, wind speed & direction, humidity %, sunrise & sunset time — and more!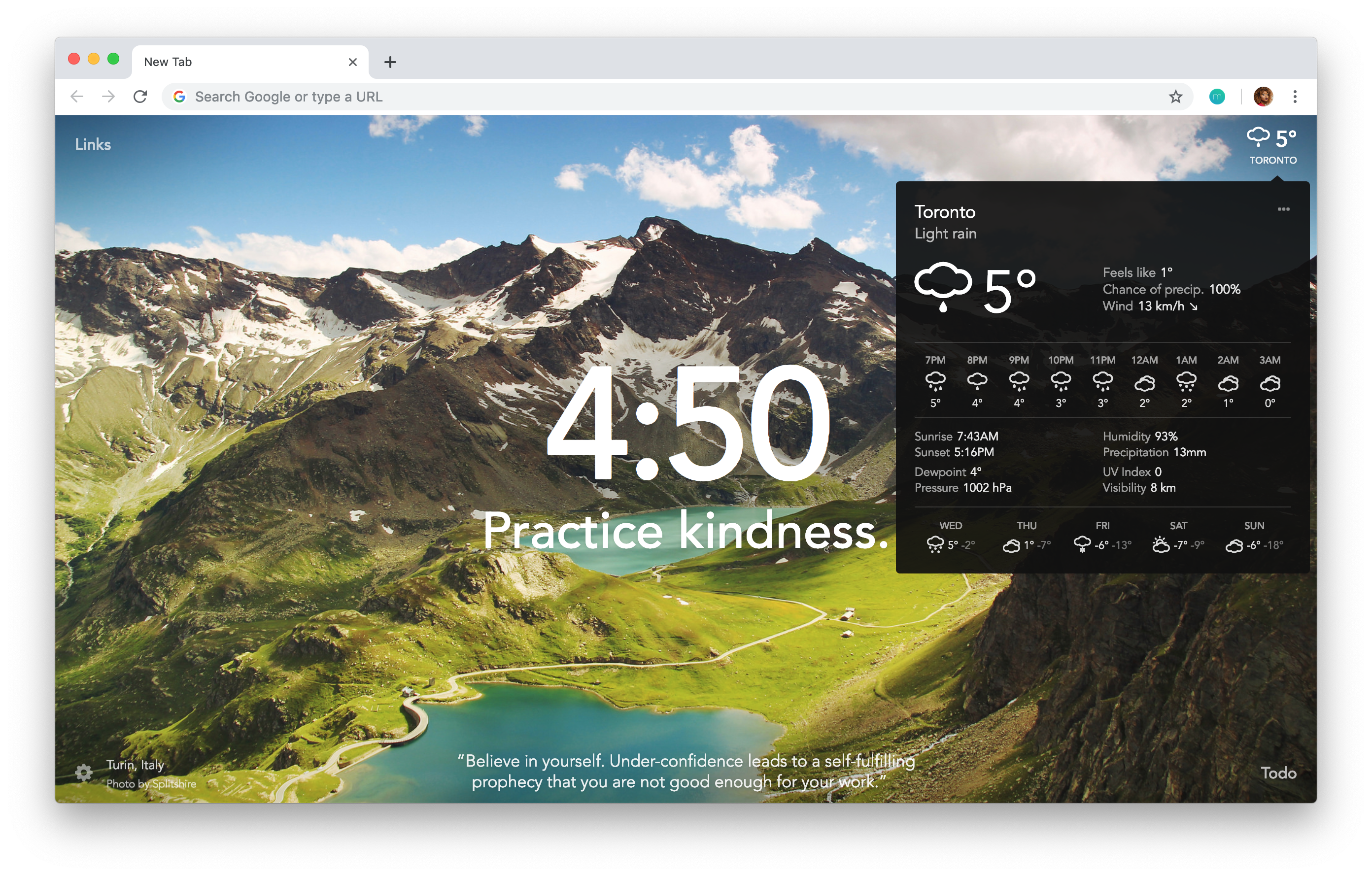 Learn more about Extra weather info
Fonts and theme customization
Personalize your Momentum page with five additional font choices and an endless number of theme colors.
Learn more about Font and theme customization
Metrics
Add and update key performance indicators and other useful personal or professional data directly on your dashboard. Metrics clearly displayed at the top right of Momentum. You can add Metrics manually, connect to third-party Metric integrations, or via API address.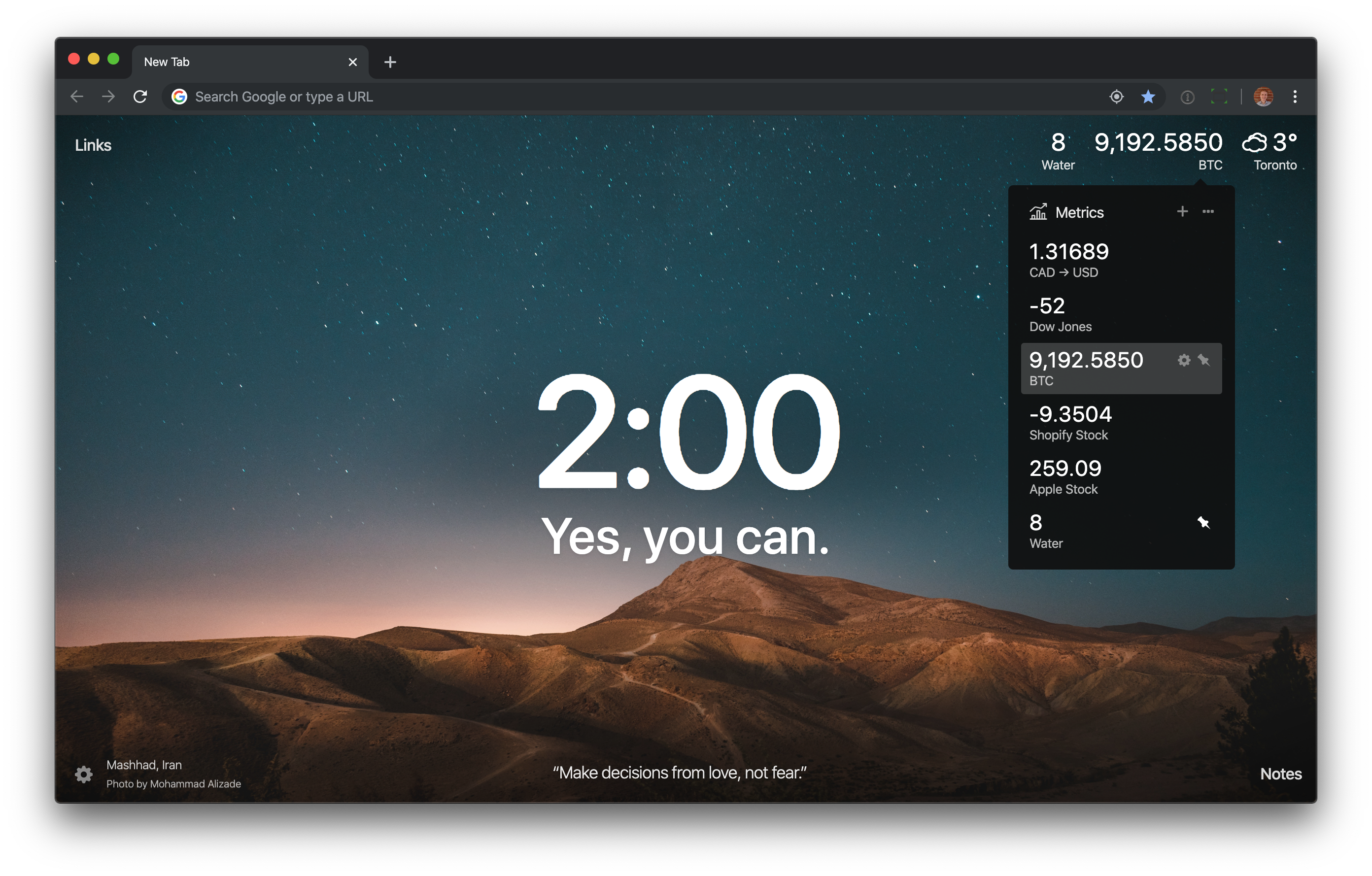 Multi-Todo lists
Go beyond Momentum's default Inbox, Today, and Done lists by adding your very own!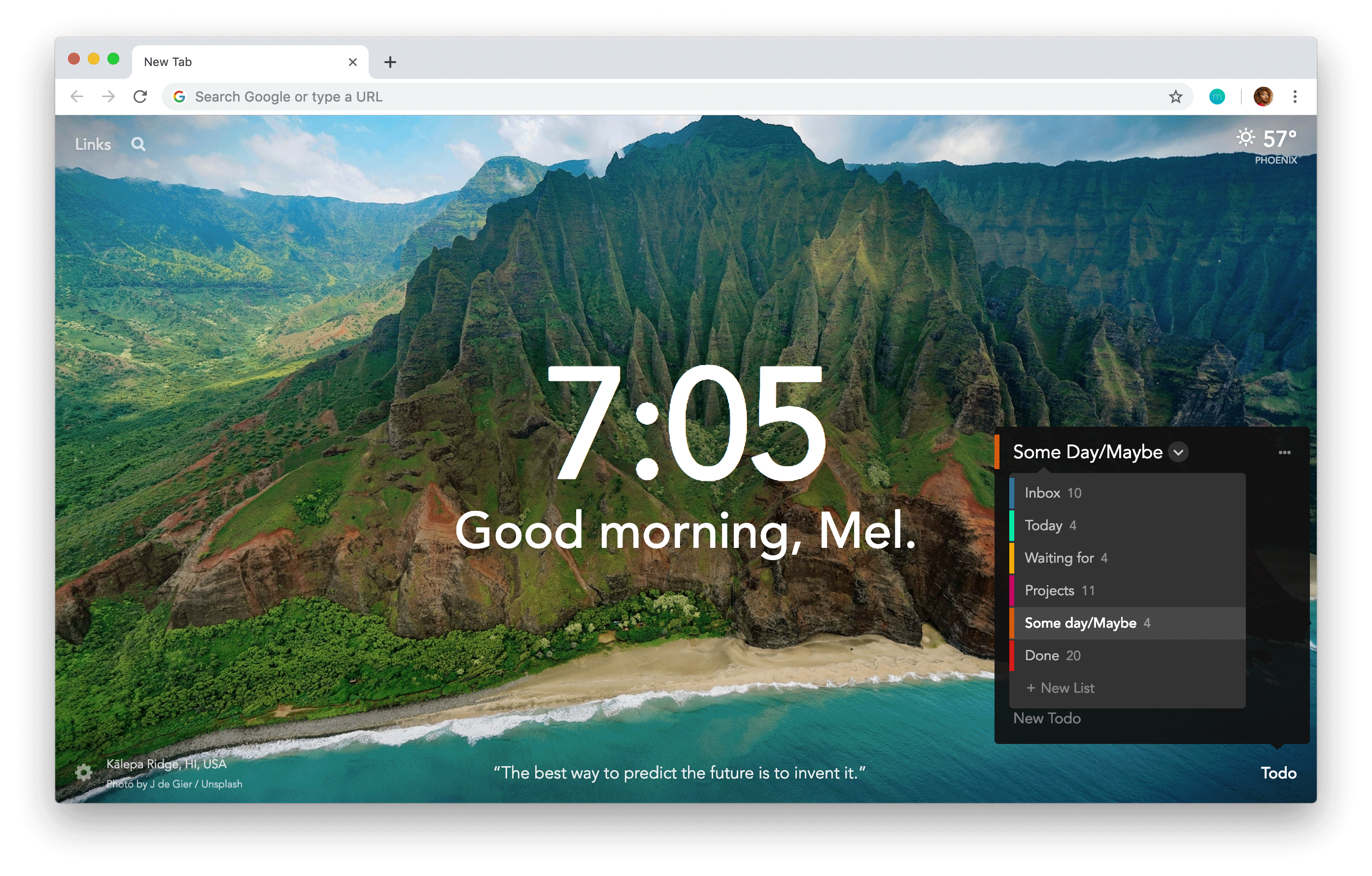 Learn more about Multi-Todo lists
Notes
Keep track of information, schedules, or reminders that don't quite fit in the Todo list format with Momentum's Notes feature.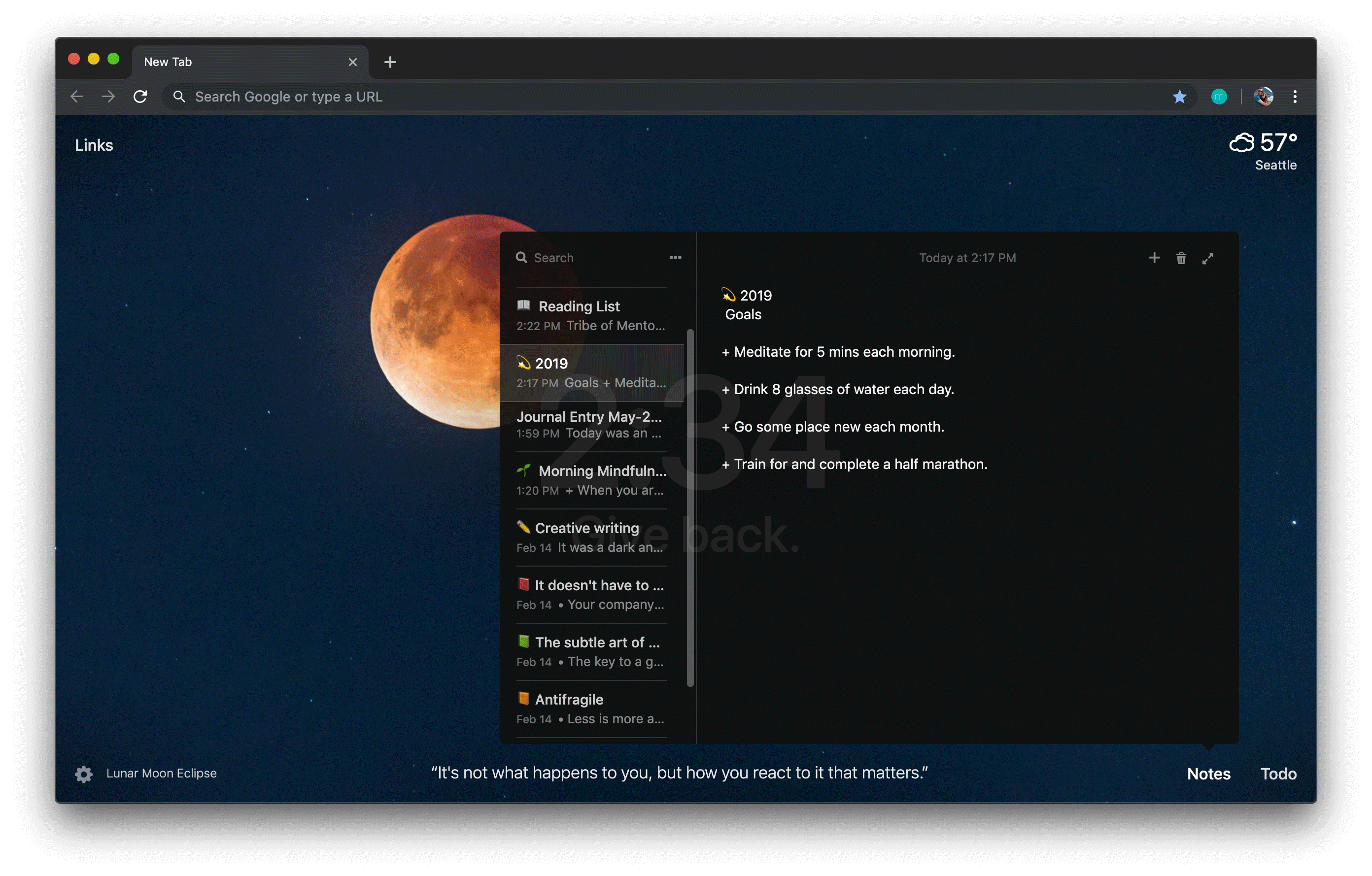 Pomodoro Timer
Momentum's Pomodoro Timer breaks up your day into timed intervals of Focus and Rest, most commonly known as the Pomodoro technique. You can customize these timers and use them however you want. 👍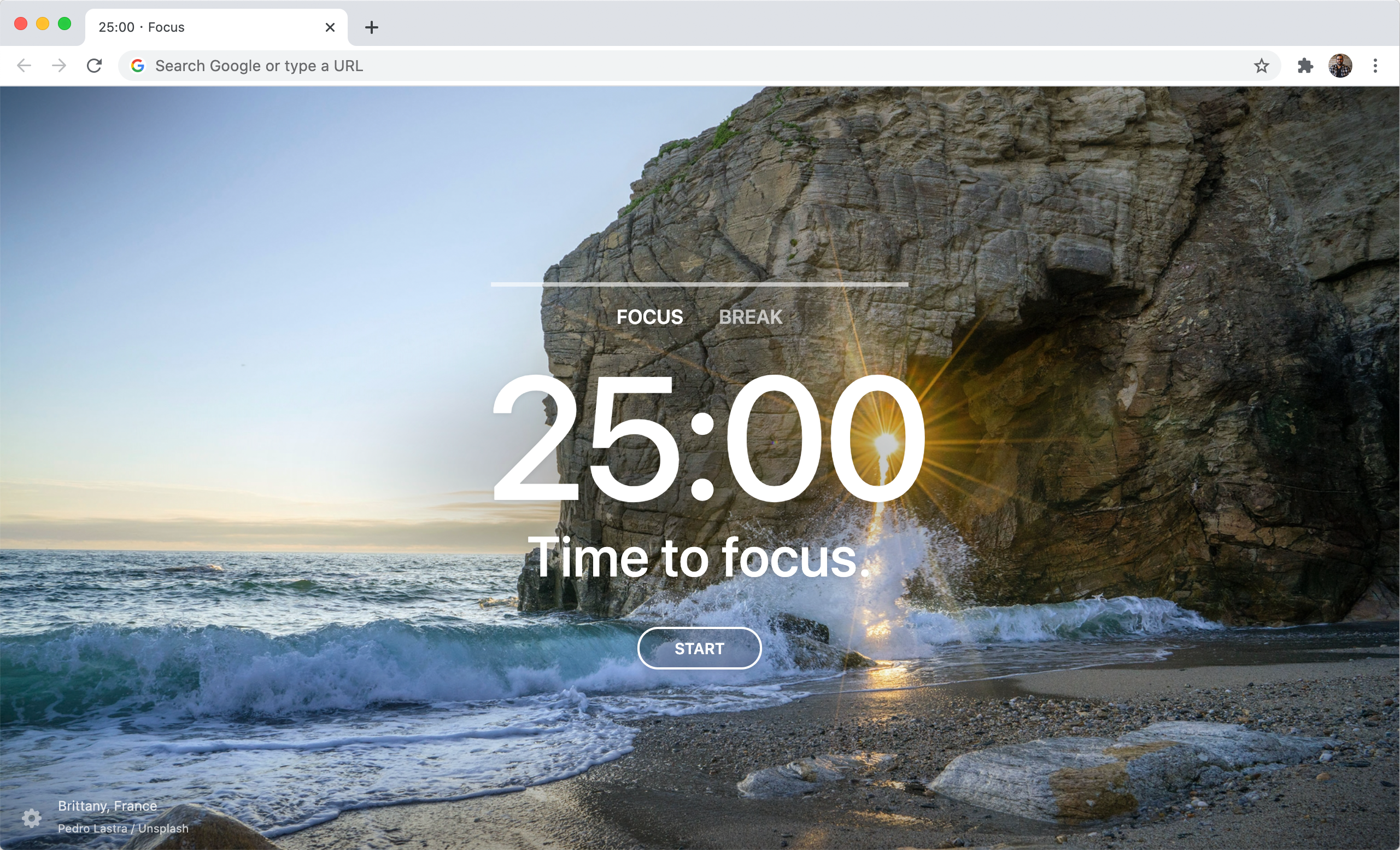 Learn more about Pomodoro Timer
Soundscapes
Momentum's stimulating Soundscapes help you stay focused and relaxed throughout the day. Get in the right headspace with the sound of a crackling campfire, an ambient café, a peaceful garden, and many other lively scenes.
Tab Groups
Create custom collections of links and open them all in separate tabs with one click. Use custom Tab Groups to spark a certain mood, simplify a workflow, or help form a routine.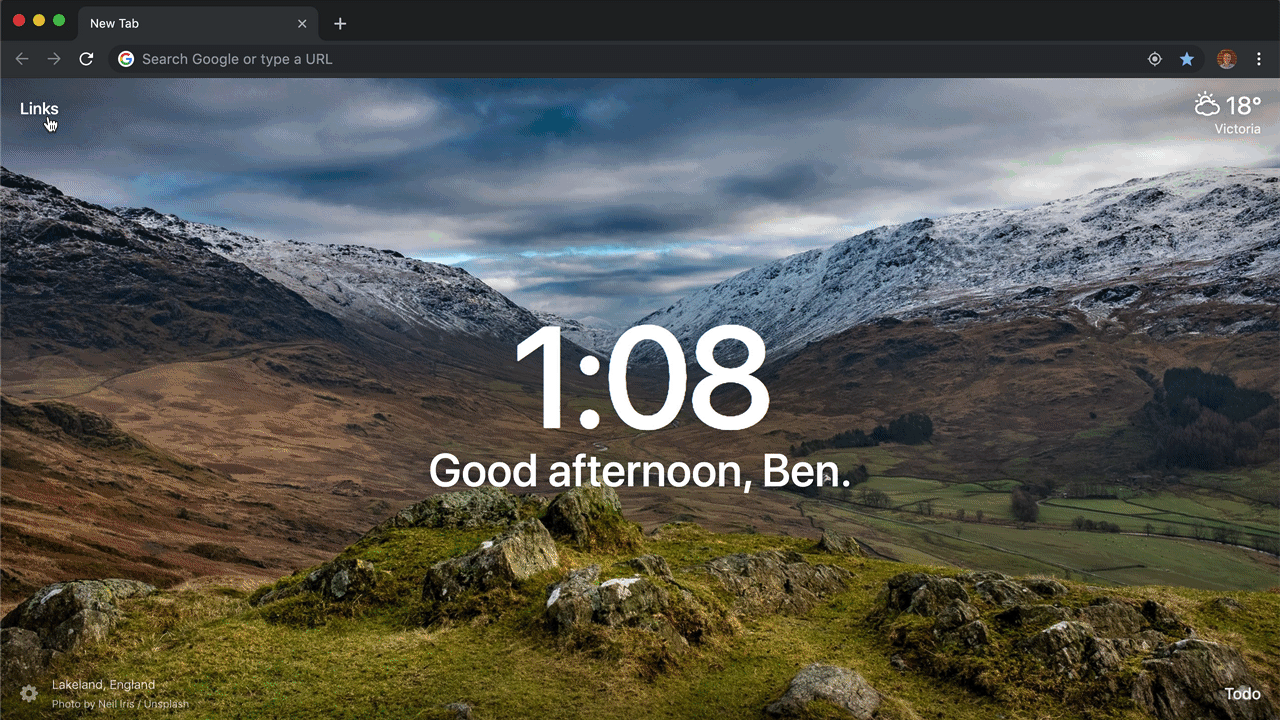 Tab Stash
With Tab Stash, you can easily vacuum up your tabs and store them for review later. This way, you can eliminate distractions and free your mind to focus on what matters.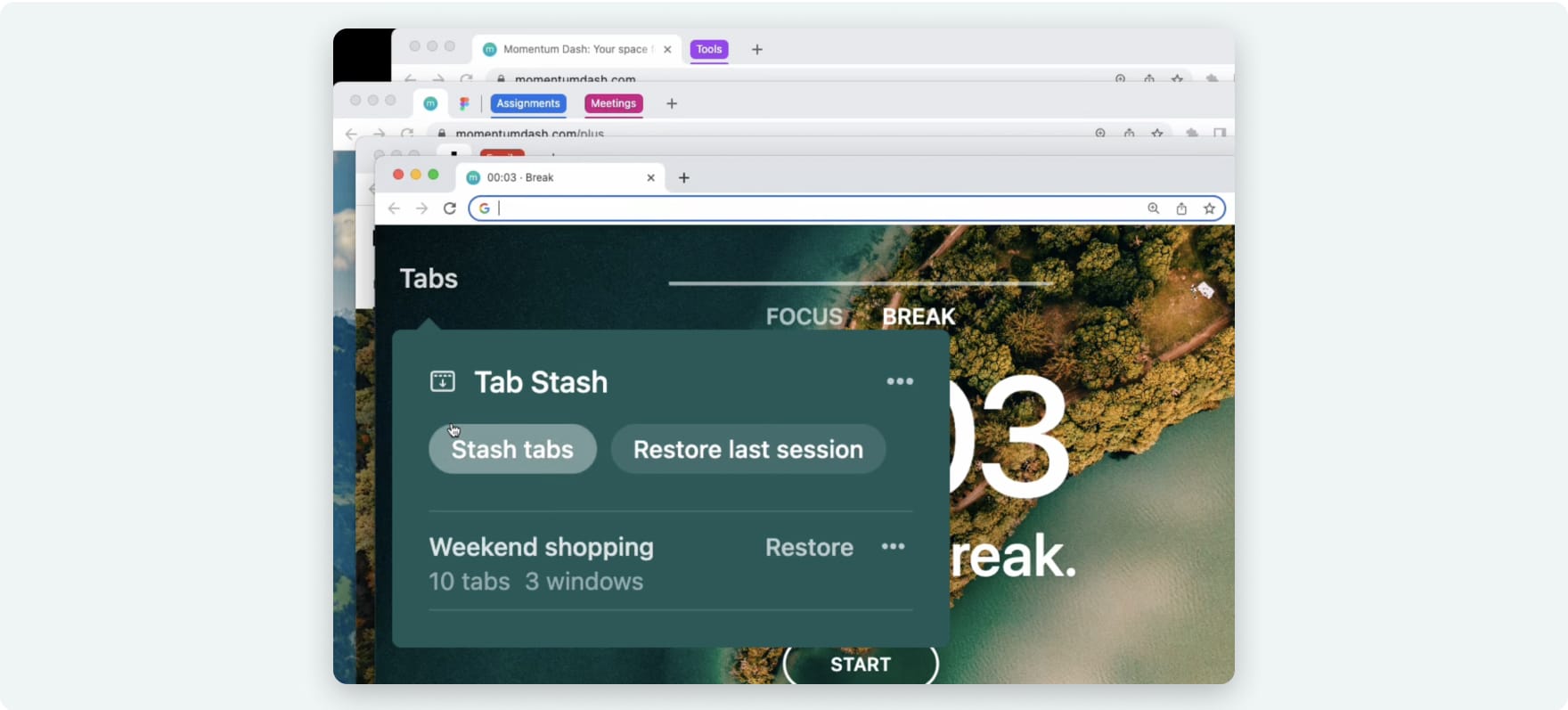 Todo integrations
Momentum's Todo integrations let you connect your favorite 3rd-party task managers to the Todo, so you can conveniently add, view, and update your 3rd-party tasks within Momentum.

We currently have Todo integrations available for:
Asana, Todoist, Trello, Google Tasks, Microsoft To Do, BitBucket, GitHub and Basecamp 3.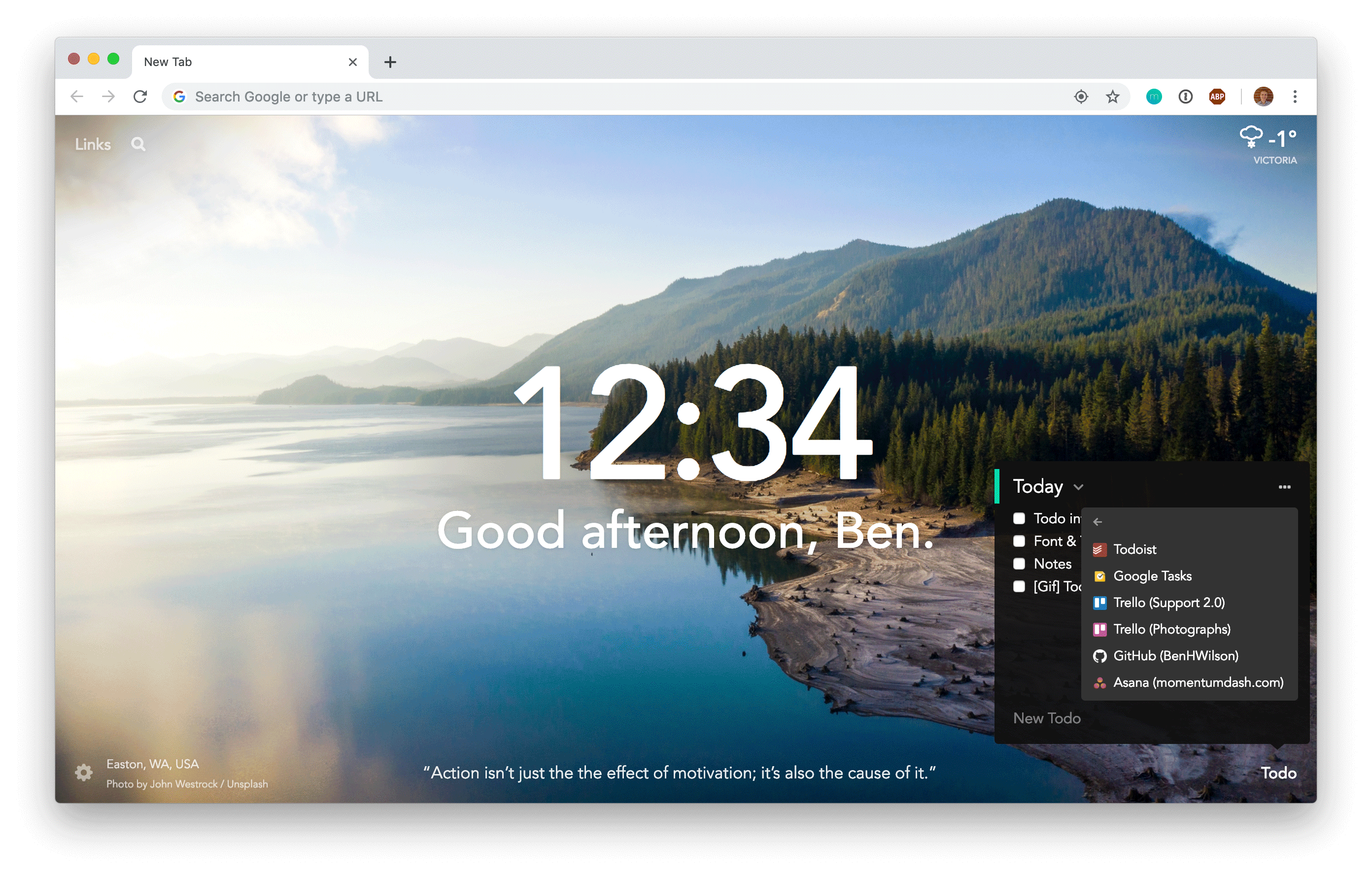 Learn more about Todo integrations
World Clocks
World Clocks makes scheduling around time zones a breeze! Simply type in a location, name it whatever you like, and then save it. The clocks you save will cleanly display at the top of your Momentum page.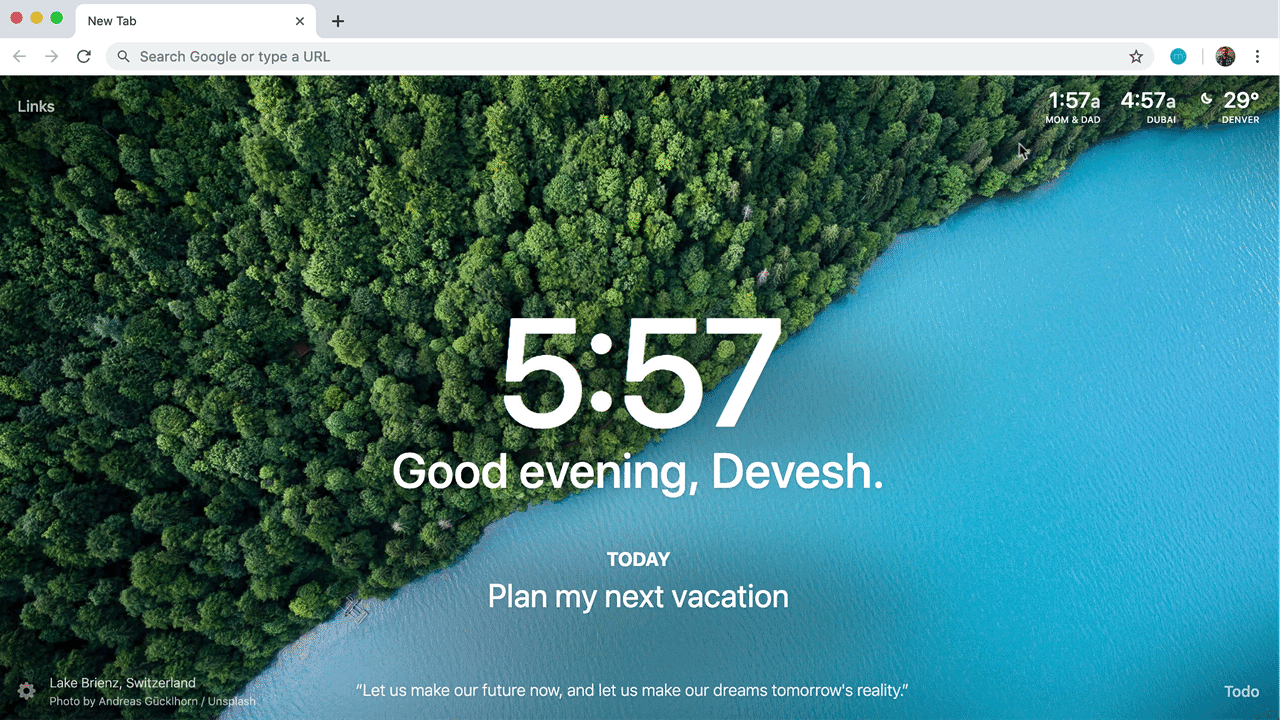 If you're interested in upgrading to Momentum Plus, you can do so on the Momentum Plus page or on your account's upgrade page. After upgrading, you'll gain instant access to all of the Plus features listed above, along with any others that we add to the Plus offering in the future.
Related Articles:
Do you have specific questions?
If you have specific questions, please send us a message or reach out to us at +1 (250) 419 7669.