If you're new to Momentum, welcome! You've come to the right place!
Momentum is a free browser add-on that brings focus, inspiration, and productivity to your New Tab page. Join the millions who are already using Momentum's calm and encouraging environment to help organize and achieve their personal and professional goals.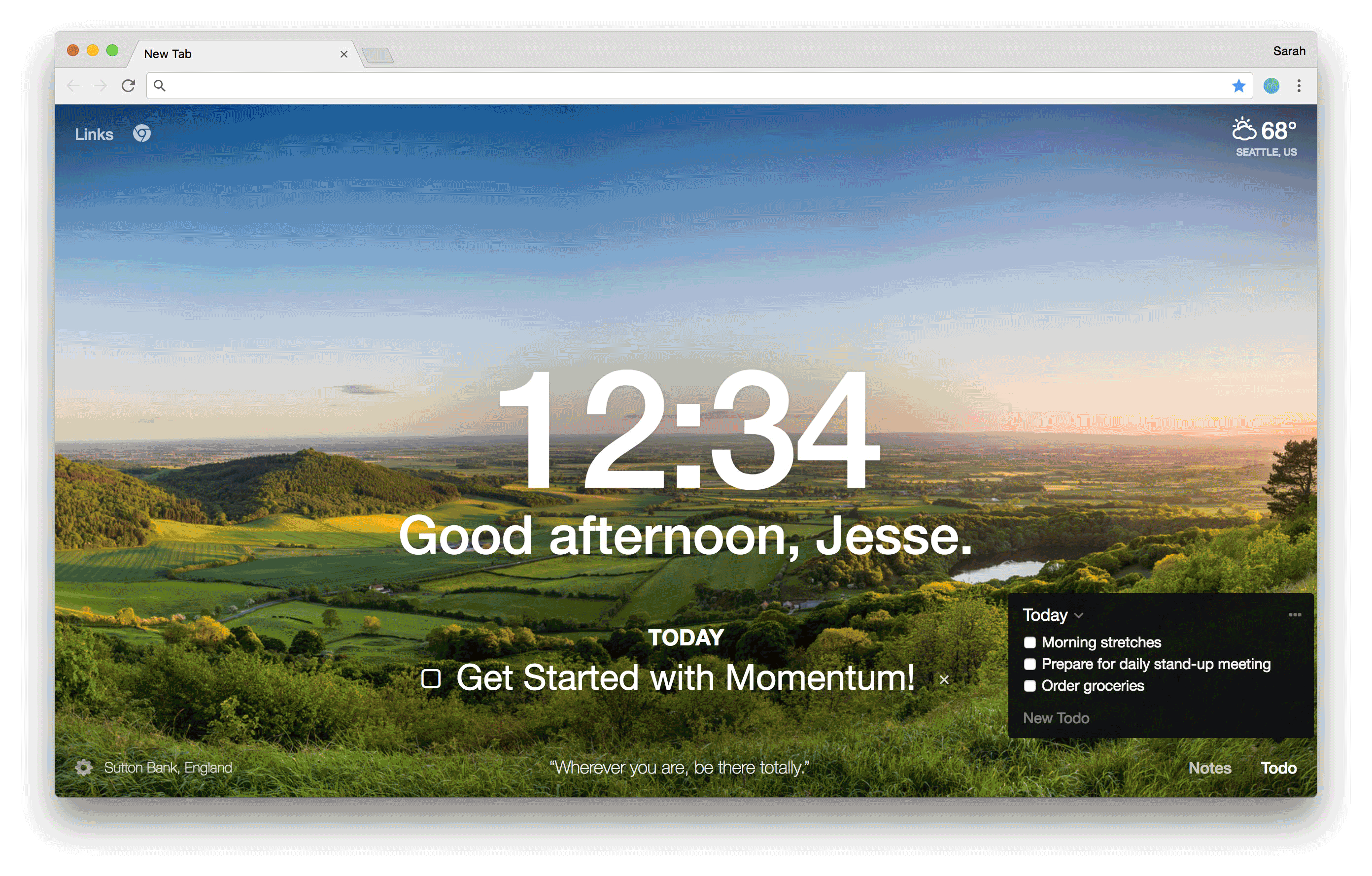 Follow these next three steps to start using Momentum for yourself today!
Install Momentum & create an account
Add & manage your tasks with Momentum's Todo
1. Install Momentum & create an account
Download Momentum's free Google Chrome and/or Firefox add-on on Momentum's official website, the Chrome Web Store, or the Firefox Add-ons page.
Visit Momentum's official website.
Click + Add Momentum to Chrome/Firefox.
• If you're on Firefox, click + Add to Firefox again on Firefox's Add-ons page.
A permission pop-up will appear, click Add extension to install Momentum.
• Learn more about the permissions Momentum requests on our Privacy page. 
After the installation is completed, you will be asked to create a Momentum account. Type/enter your Name, Email, and create a Password in the spaces provided when asked. 
After creating a password, you're Momentum dashboard page will appear. Don't forget to check your email for a Momentum account verification message — click the link inside to verify your Momentum account.
For more information on creating a Momentum account, check out our Account creation
help article.
After installing Momentum, "What is your main focus for today?" will display at the center of your screen. Use this daily Focus prompt to help organize your day and build momentum towards your long and short-term goals.
Set a clear Focus each day to help keep procrastination away!
Click below "What is your main focus for Today?".
Type in the main thing that you want to achieve today, and then hit enter/return on your keyboard.
• After setting a Focus, you'll see it each time you open a New Tab page.
Complete your Focus by clicking the checkbox that appears to the left when you hover your mouse over your Focus.
A new day means a new Focus! Your daily Focus automatically resets at 5:00am. If you'd prefer to complete multiple focus' in a single day, you'll want to check out the Autofocus feature on Momentum Plus!
3. Add & manage your tasks with Momentum's Todo
Momentum's Todo is a simple task manager that is always close by. Use it to quickly add, view, and complete the tasks that come up in your day-to-day life.
Click Todo at the bottom right corner of your dashboard.
Click New Todo at the bottom of Todo.
Type in the name of your task and then hit enter on your keyboard.
Other Todo actions
To complete a task: click the checkbox to the left of the task.
To edit a task: double-click a task, make your changes, and then hit enter on your keyboard.
To switch between lists: click the list name at the top left of the Todo window and then select the Inbox, Today or Done list from the dropdown menu.
To rearrange your tasks: click and drag a task up or down your list, release your mouse click when it is in the spot you want it to be.
For more Todo actions and shortcuts check out our Getting Started with Todo help article.
Momentum Plus also includes Todo integrations with Asana, Trello, Todoist, Google Tasks, Basecamp 3, GitHub and Bitbucket. These Todo integrations let you add and update your tasks from those services without leaving your New Tab page. Visit the Todo integrations section of our Help Center to learn more about how Momentum's Todo integrations look and function.
Want to do more?
You've just scraped the surface of what you can do with Momentum! Check out these other popular Momentum features to get even more out of your dashboard.👍
You can find all of those guides and more in Momentum's Help Center.