The Pomodoro technique is a popular time management strategy that helps people do better and more focused work. To use this technique, organize your work into 30-minute intervals, each consisting of a 25-minute focus period followed by a 5-minute break. Repeat the intervals until you've completed all your tasks or reached the end of your workday.
Momentum's Pomodoro Timer makes it easy to use this popular time management technique—and you can even customize the Focus and Break timers to whatever you like.
Momentum's Pomodoro Timer is exclusively available to Momentum Plus members. Upgrade to Plus today to start using this feature, and all of the other exclusive Plus member benefits!
In this help article, you will learn...
Enabling Momentum's Pomodoro
Momentum's Pomodoro timer lives right at the center of your dashboard.
To enable the Pomodoro timer, hover your mouse over the clock, click the Switcher icon that appears to the left and then click the Pomodoro icon.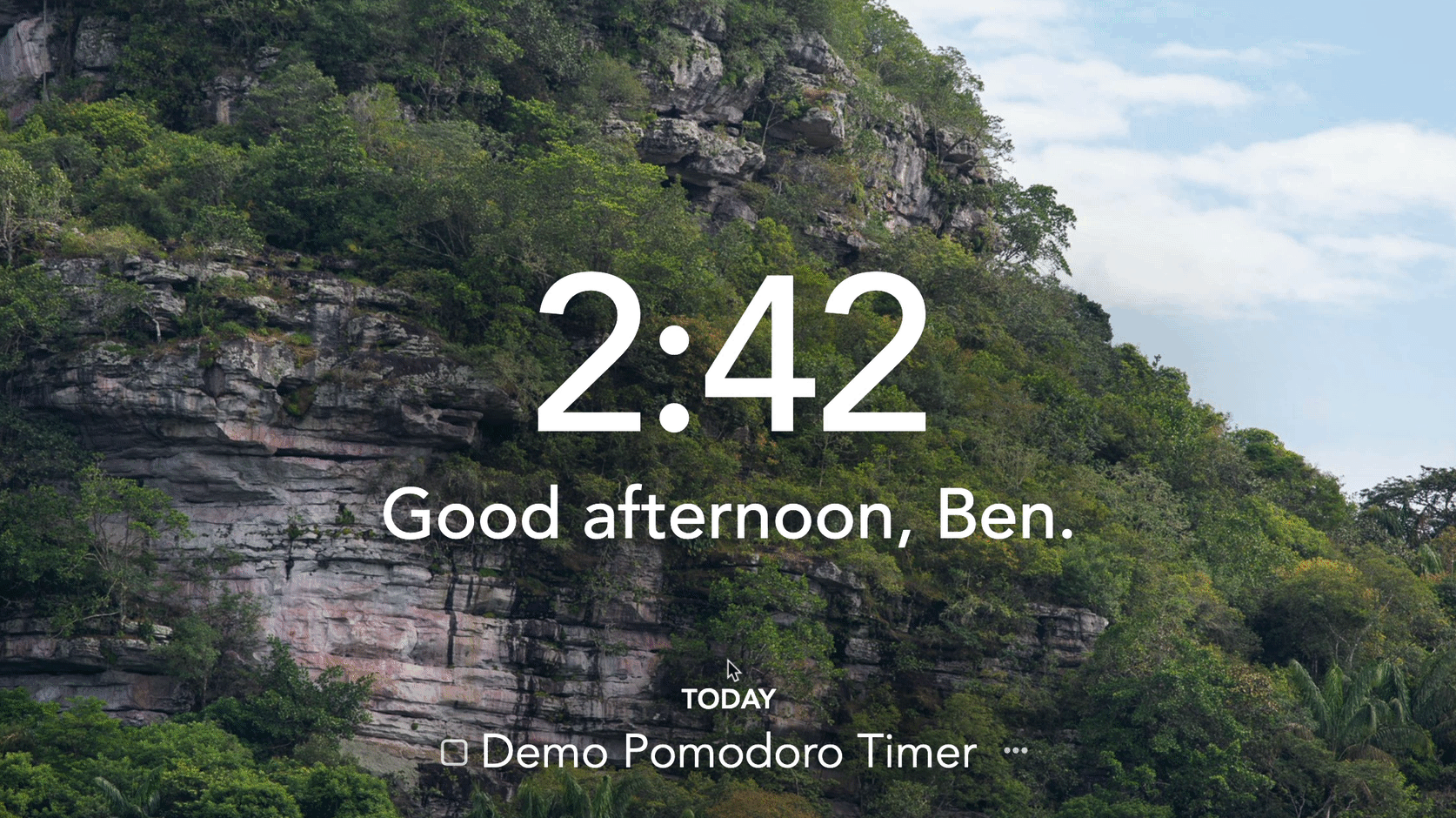 Using Momentum's Pomodoro timer
Once you've enabled the timer, you're nearly ready to get started. Follow the steps below to get the most out of the popular time management technique.
Momentum's
Start

•💡
Customizing your timers
With Momentum's Pomodoro timer you can easily customize the Focus and Break timers to fit your personal workflow.

To change the length of your Focus or Break, hover your mouse over the timer, click ••• that appears to the right, and then update the Focus or Break sections.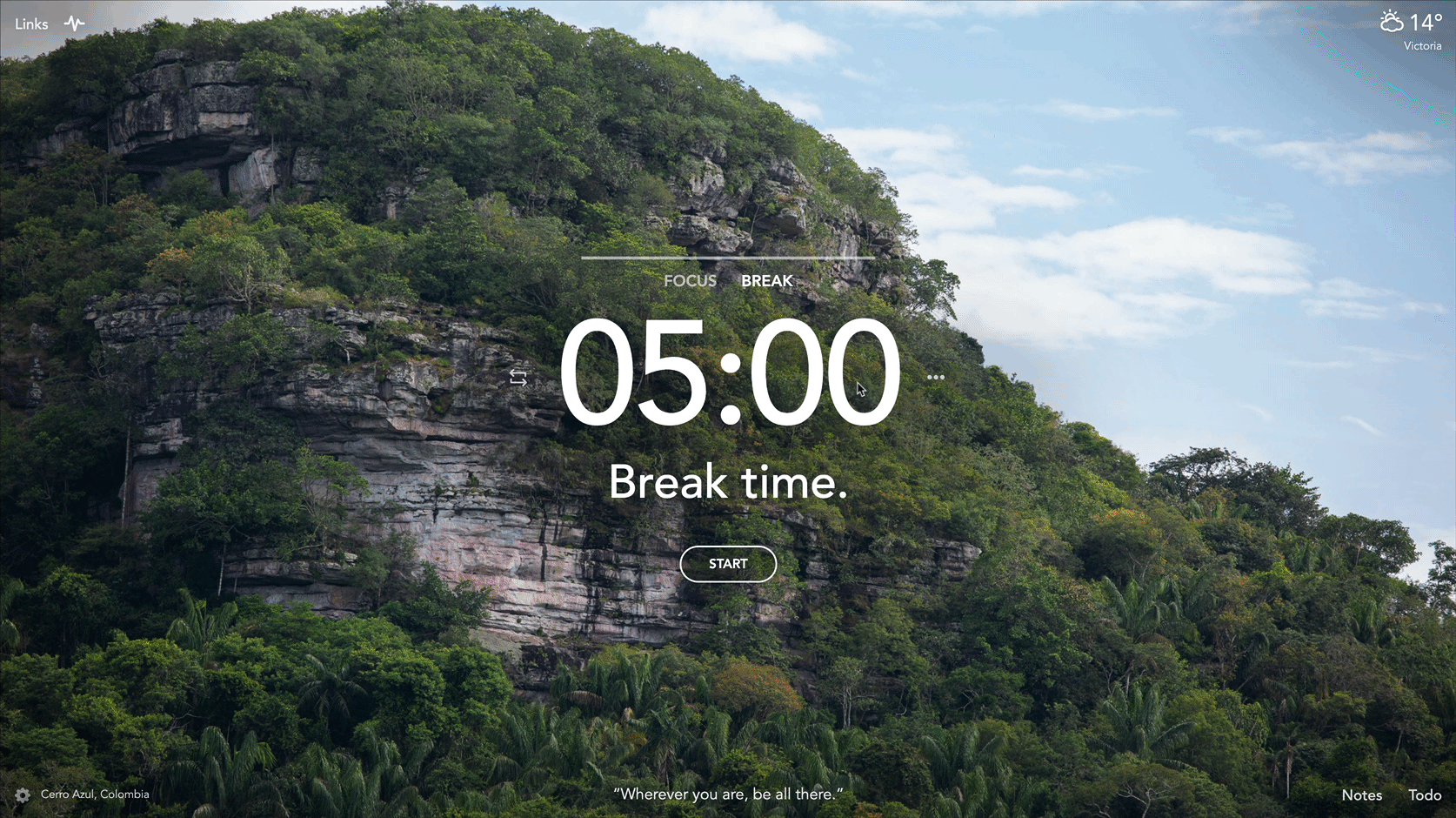 Additional Pomodoro options
Below you will see what other options Momentum's Pomodoro timer has available—like resetting or completing your active timer, enabling the Autoplay or Calm timer modes and viewing your Pomodoro stats.


Resetting/switching between timers
If a Focus or Break session starts but you're not quite ready, you can quickly reset it by clicking the name of the timer above the countdown.
Similarly, you can quickly switch between Focus or Break sessions by clicking either name above the Pomodoro timer.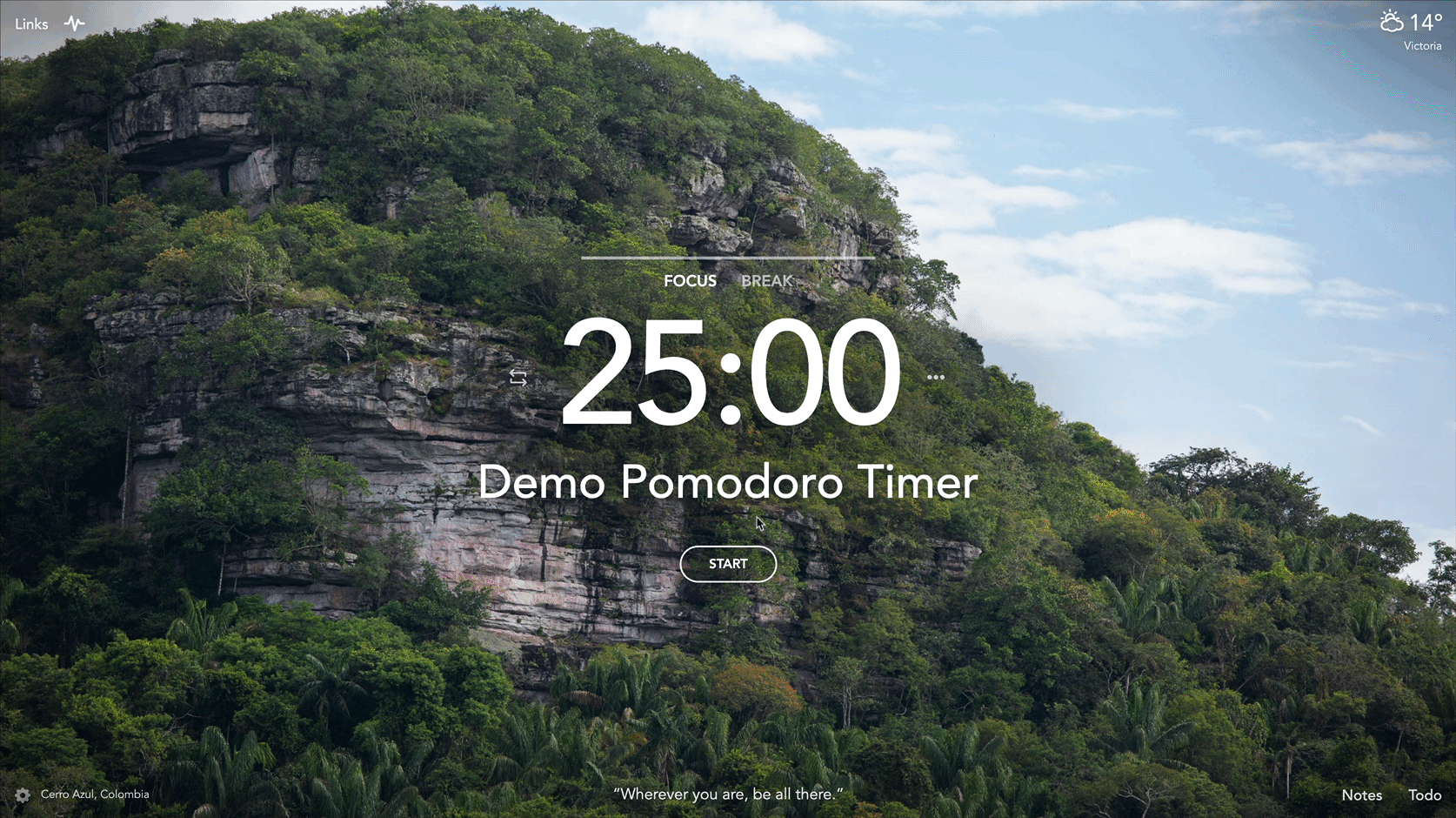 Completing a timer
To complete your active Focus or Break timer, simply click the Progress bar above the timer.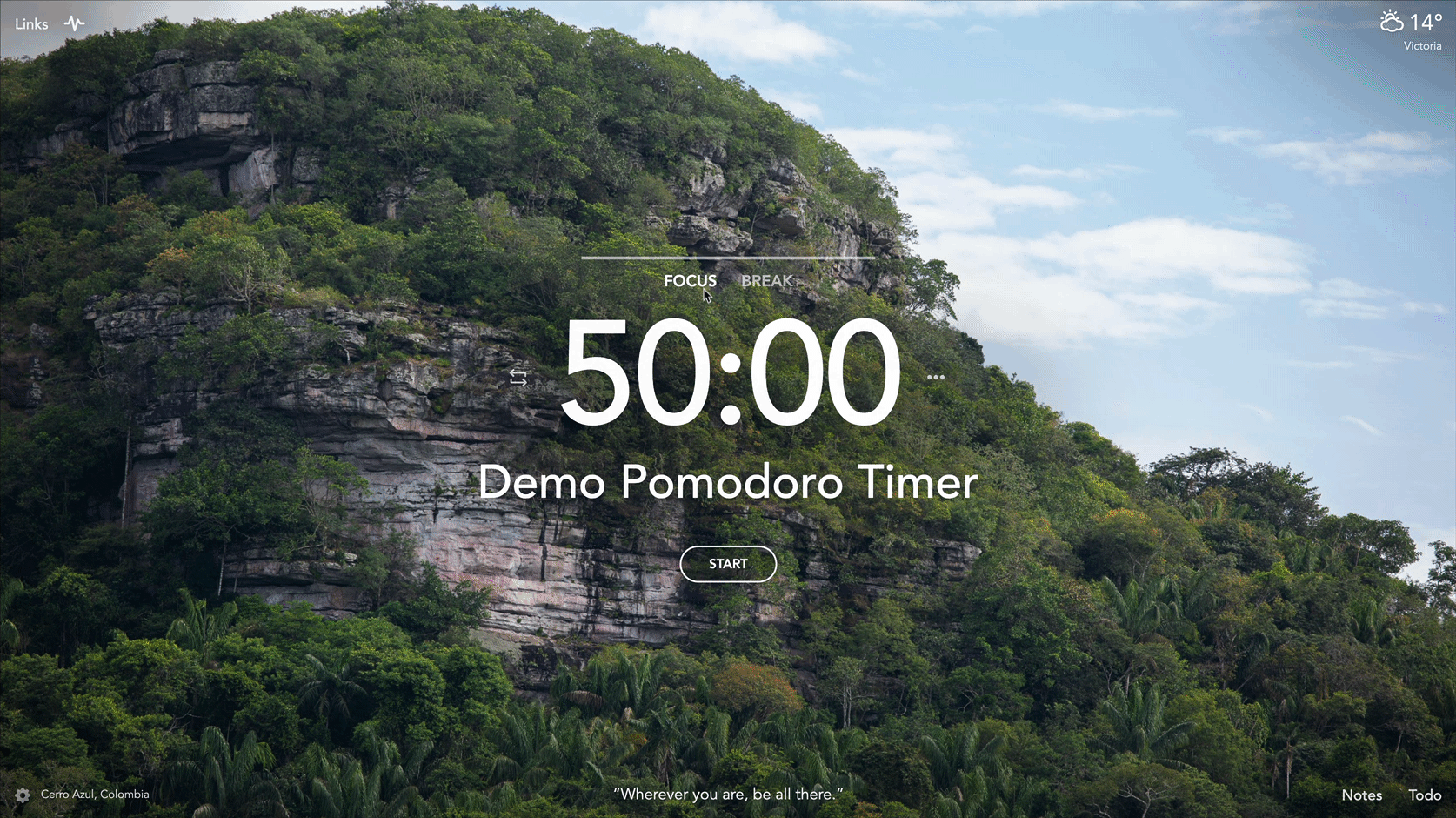 Note: Completing your Focus timer will +1 to your 'Completed' and 'Focused' Pomodoro stats.
Pomodoro stats
Want to know how many Pomodoro Focus timers you've completed, or see how many Focus minutes you've had Today, This Week or All Time? You can!
To see your Pomodoro stats just click the Pomodoro settings ••• to the right of your timer. To switch between viewing Today, This Week and All Time stats, click the top section of the Completed menu.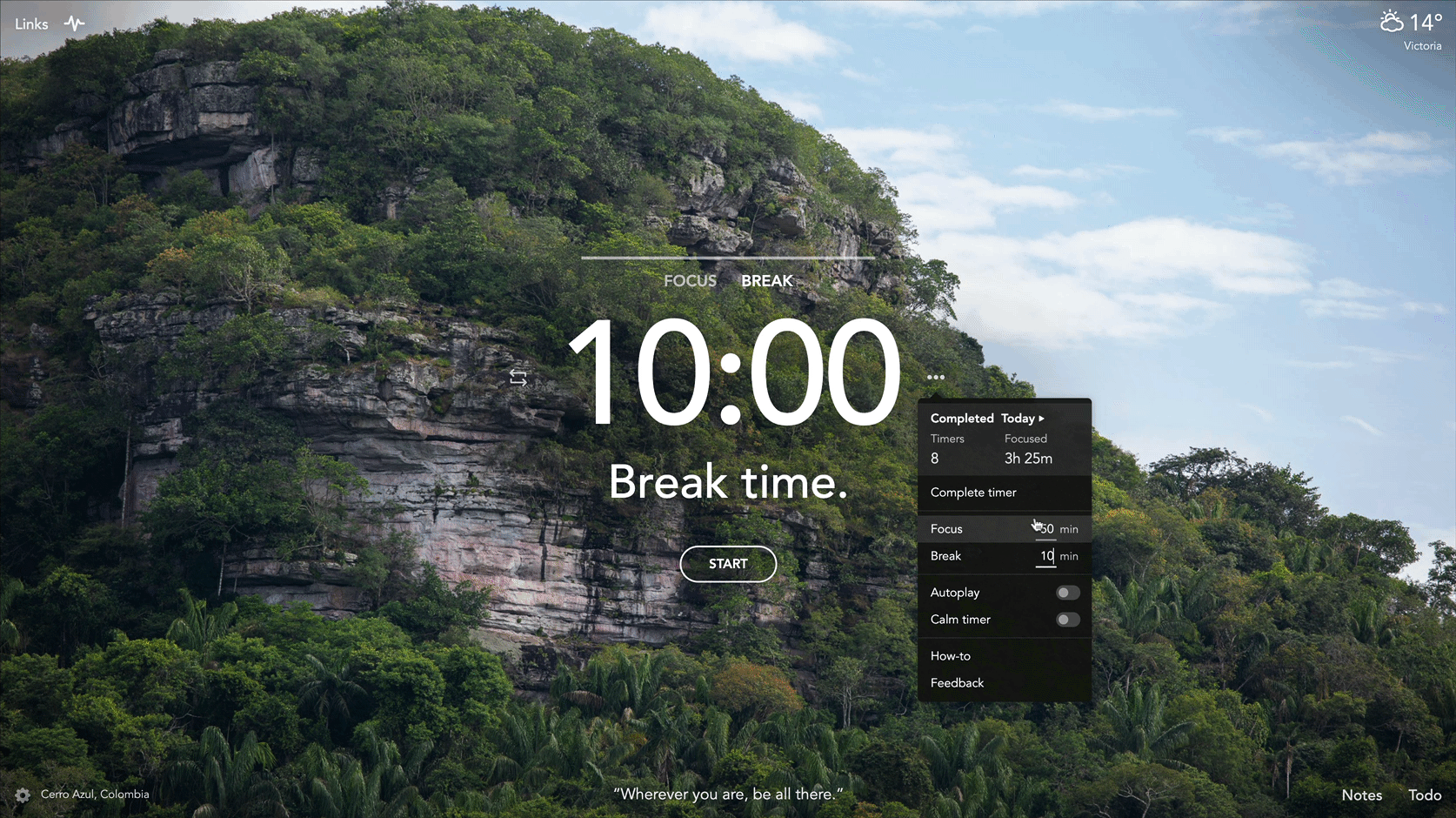 Autoplay
The Autoplay option in the Pomodoro settings ••• automatically starts the next Focus or Break session when the previous one ends. This saves you from having to manually click Start after each timer ends.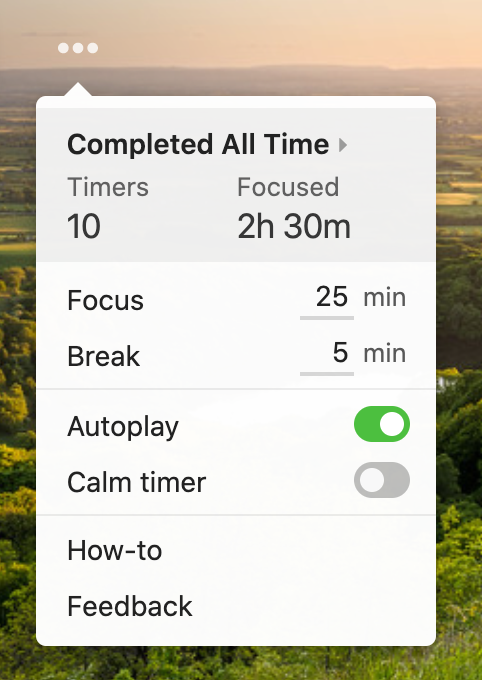 Calm timer
Seeing each second countdown can sometimes be distracting. With the Calm timer option in the Pomodoro settings •••, you can hide the seconds and just see how many minutes are left.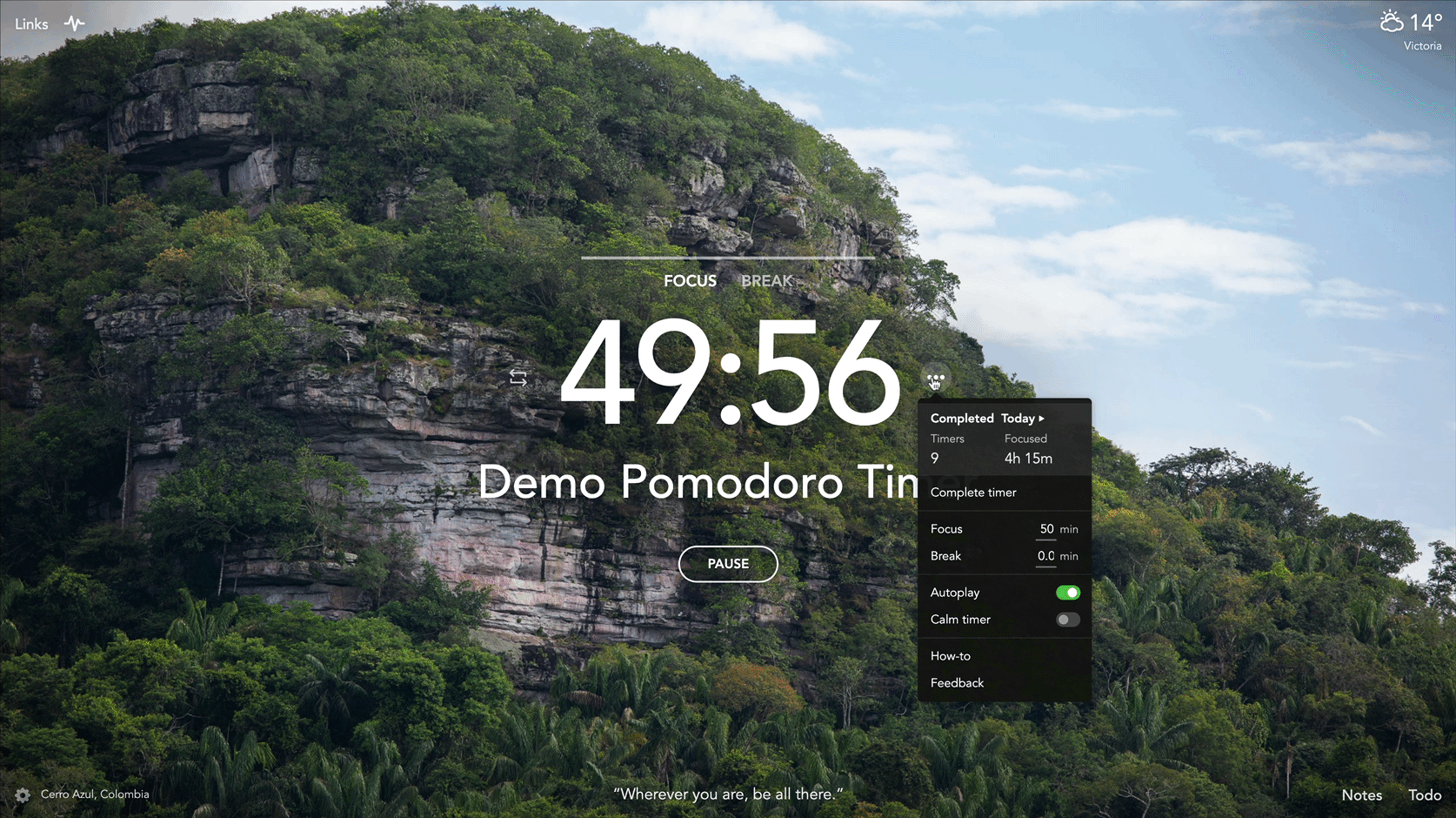 Notification sound delay on Safari
Unfortunately, Safari doesn't autoplay Momentum's Pomodoro's notification sounds if you've switched to another tab. This means that you'll sometimes not hear the notification sound until you switch back to your Momentum tab and miss your next focus or break session. We are hopeful that Safari will update this behavior in the future. 🙏

In the meantime, one workaround is to start your Pomodoro timer and then open a new window (command ⌘ + N) to do your work. This will keep your Pomodoro timer active in the background, so you'll hear the notification sound when your timer ends (or starts if you have Autoplay enabled).
Pro Tip: You can quickly switch between Safari windows by pressing command ⌘ + ~/` on your keyboard.
You may also be interested in...
Having problems with the Pomodoro timer?
If you're having problems with the Pomodoro timer, please send us a message. In your message, provide a description (bonus points for a screenshot or recording) of where you are stuck, what solutions you've tried, and what browser and operating system you're using.