Have you ever wanted to export your swirling thoughts and to-do's to a "second brain?" Saving ideas for later can free up mental space, but if you don't have a way to organize them, they'll get lost in the shuffle.
We've been improving the Momentum Notes app to be the perfect, easy-to-organize, AI-powered hub for all your best thinking (and all the ideas you'd rather think about later).
The Notes app allows you to conveniently create, edit, and store notes. You can use Notes for journaling, personal knowledge management, mindfulness reminders, book summaries, and more!
Notes have a number of features to improve your ability to structure, style, write, and organize your notes.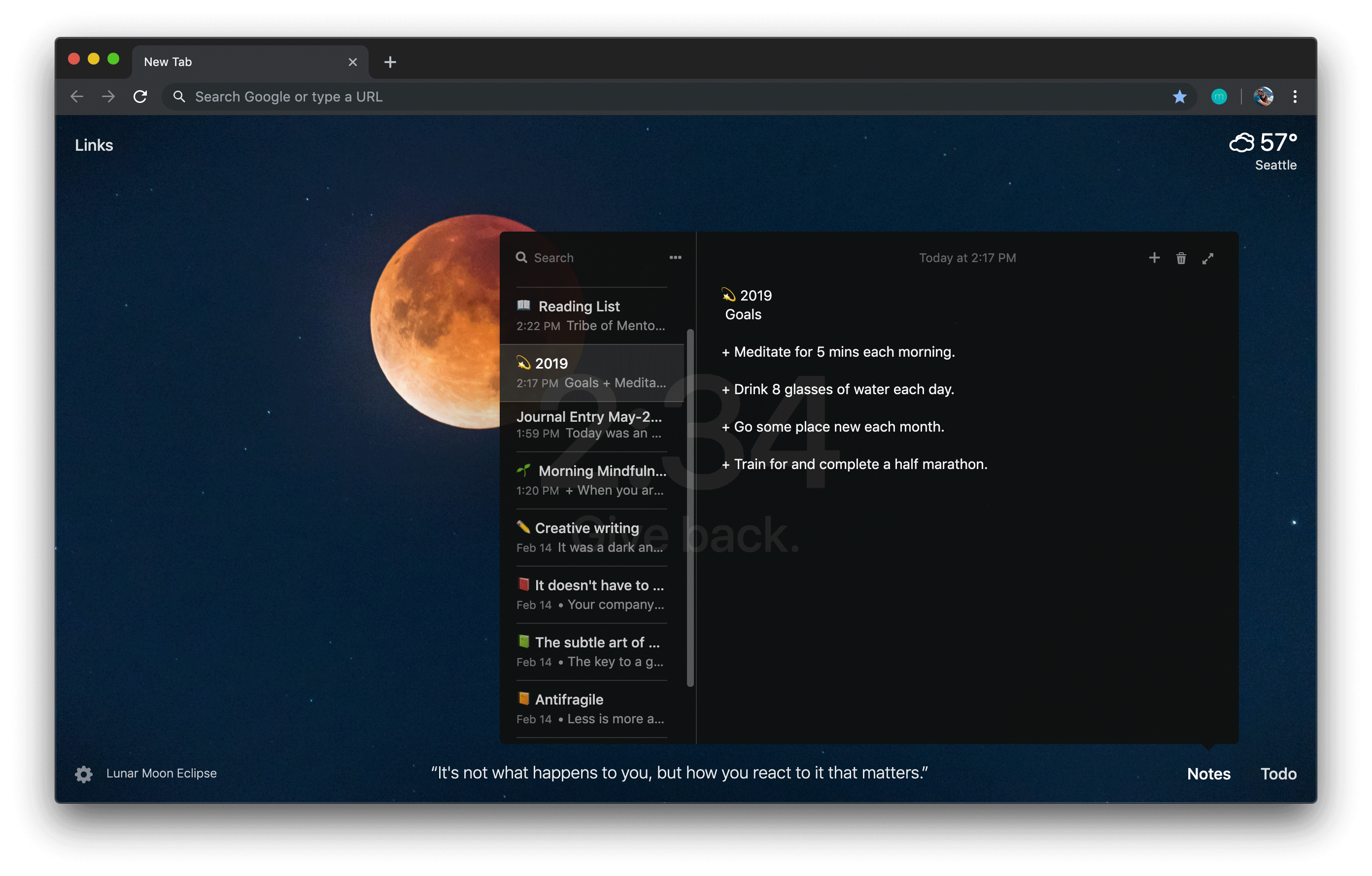 Topics covered in this article:
Enabling/disabling the Notes app
To enable or disable Notes:
Go to Settings
Go to the General tab
Toggle the switch next to Notes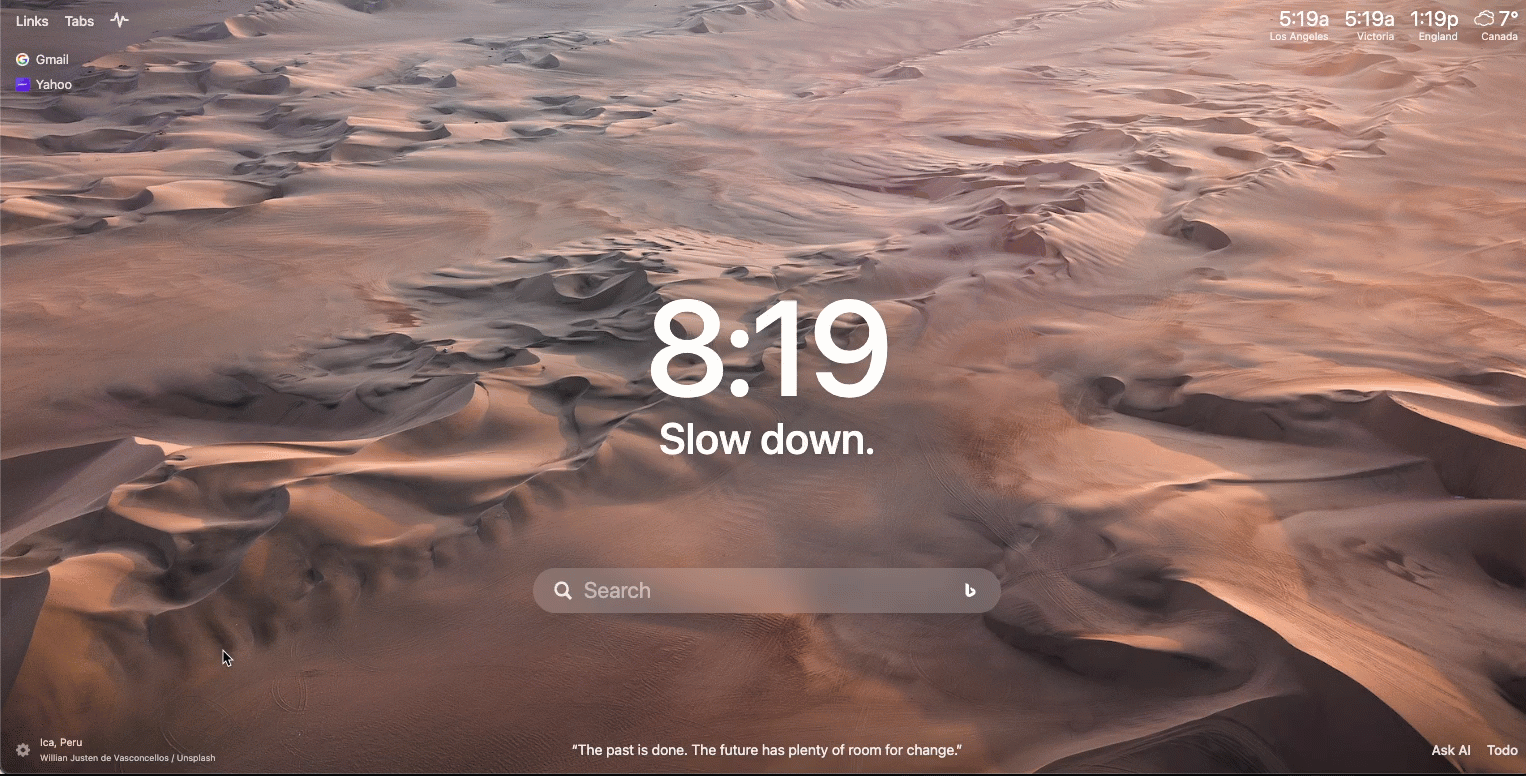 How to use each Notes feature
Opening Notes
Click 'Notes' in the bottom right. If it's not there, you will need to enable it (instructions below).
You can also use n to open from the dashboard.
Note: You have to click into Momentum first for the hotkey to work. If you used cmd-t or cmt-n to open a new tab/window, press tab to focus the Momentum app first.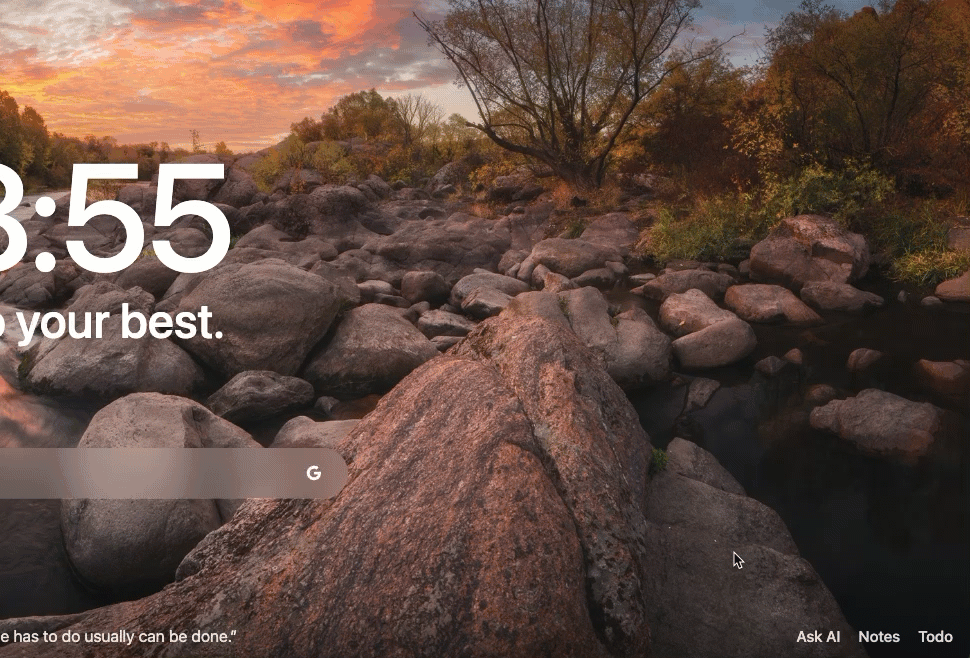 Creating a note
Click the + icon in the top right.
You can also use the cmd-ctrl-n hotkey from anywhere in Notes.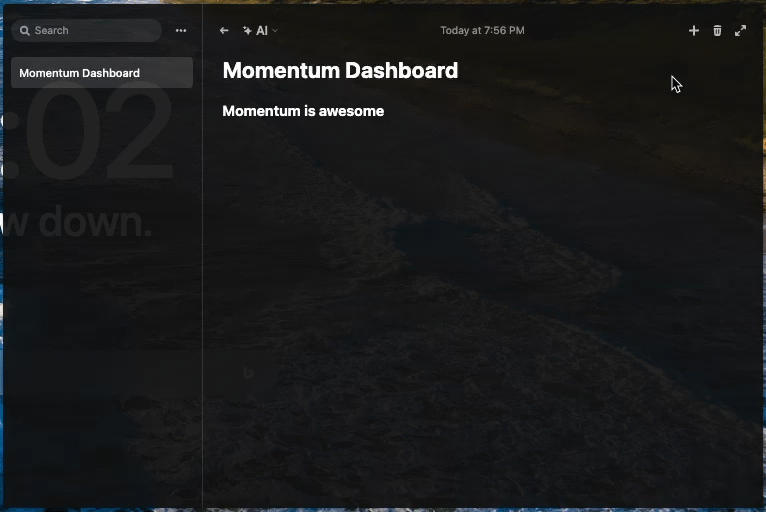 Editing a note
Simply click anywhere in a note and start typing.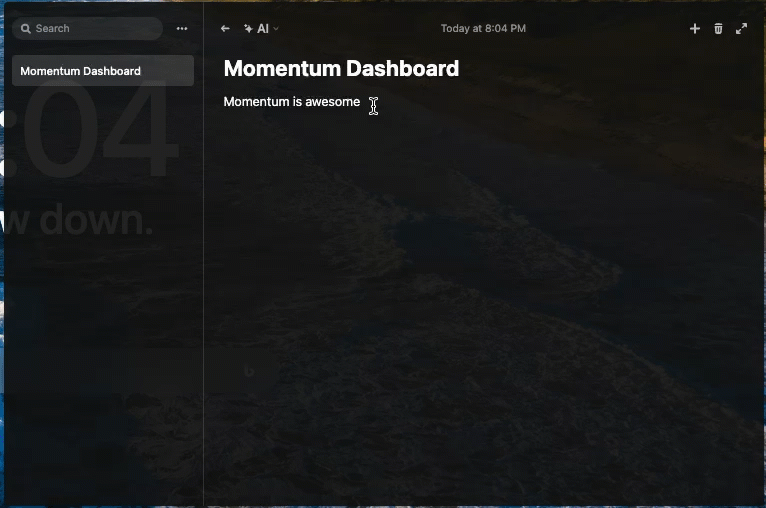 Deleting a note
Click the trash icon in the top right and confirm delete in the popup.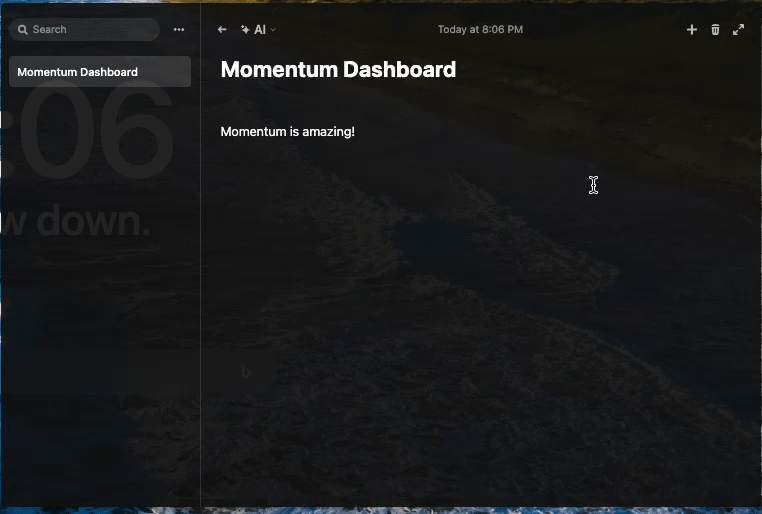 To view deleted notes, click the ••• icon at the top of the sidebar and go to 'Deleted'.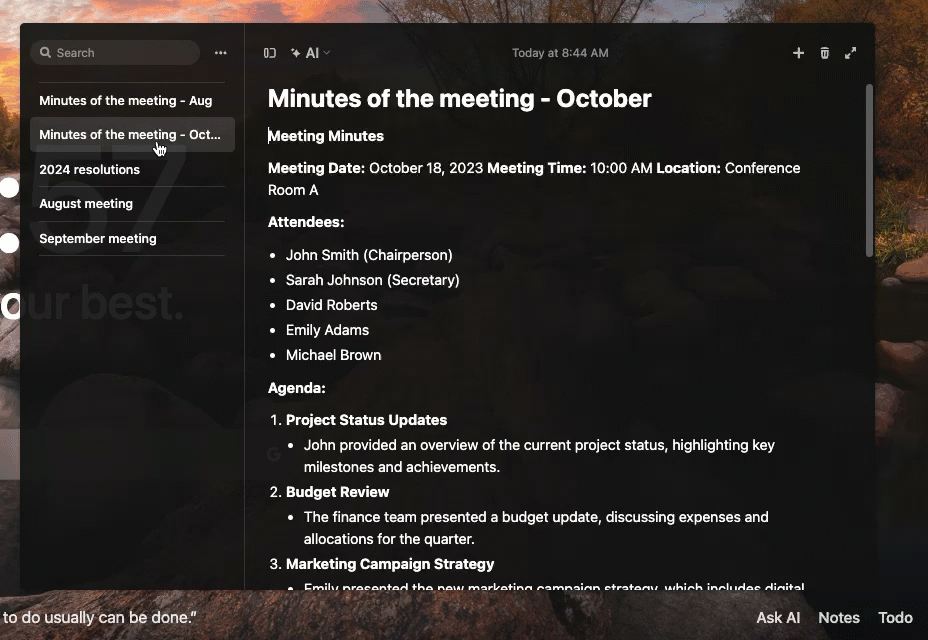 Searching
Click the search box at the top of the sidebar.
You can also use the cmd-/ hotkey to focus the search box.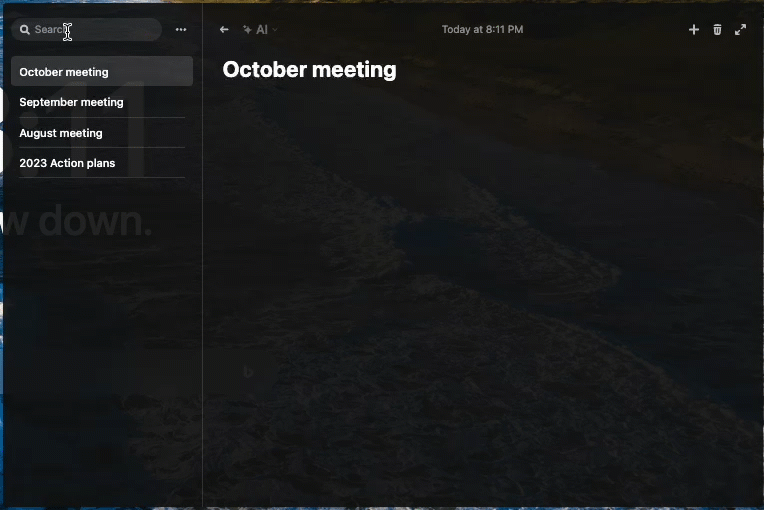 Fullscreen mode
Use fullscreen mode to eliminate distractions and focus solely on the current note.
To use fullscreen mode:
Click the expand icon in the top right (two arrows facing outward at opposite angles).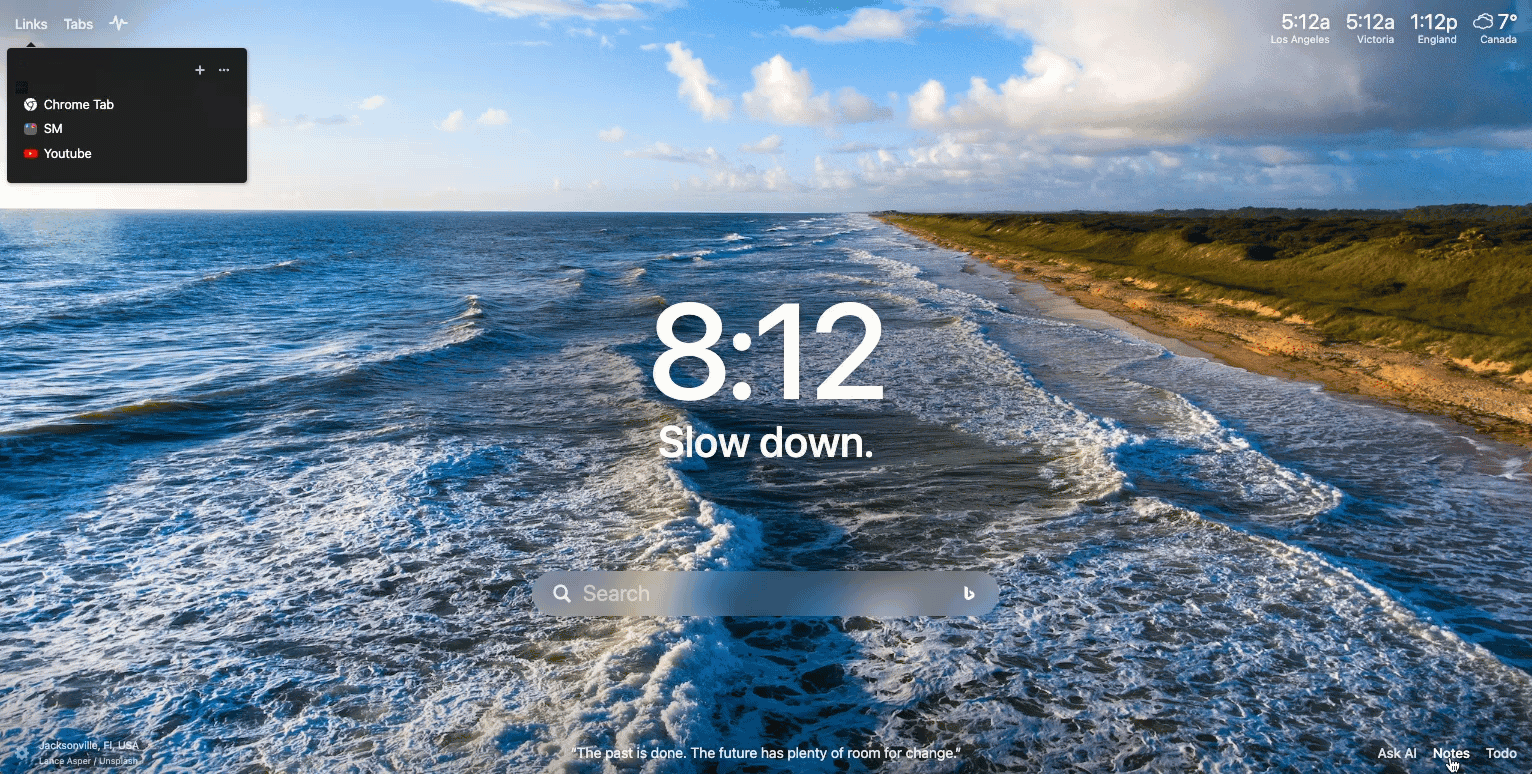 To go back to the regular app, click the collapse icon that appears in place of the expand icon: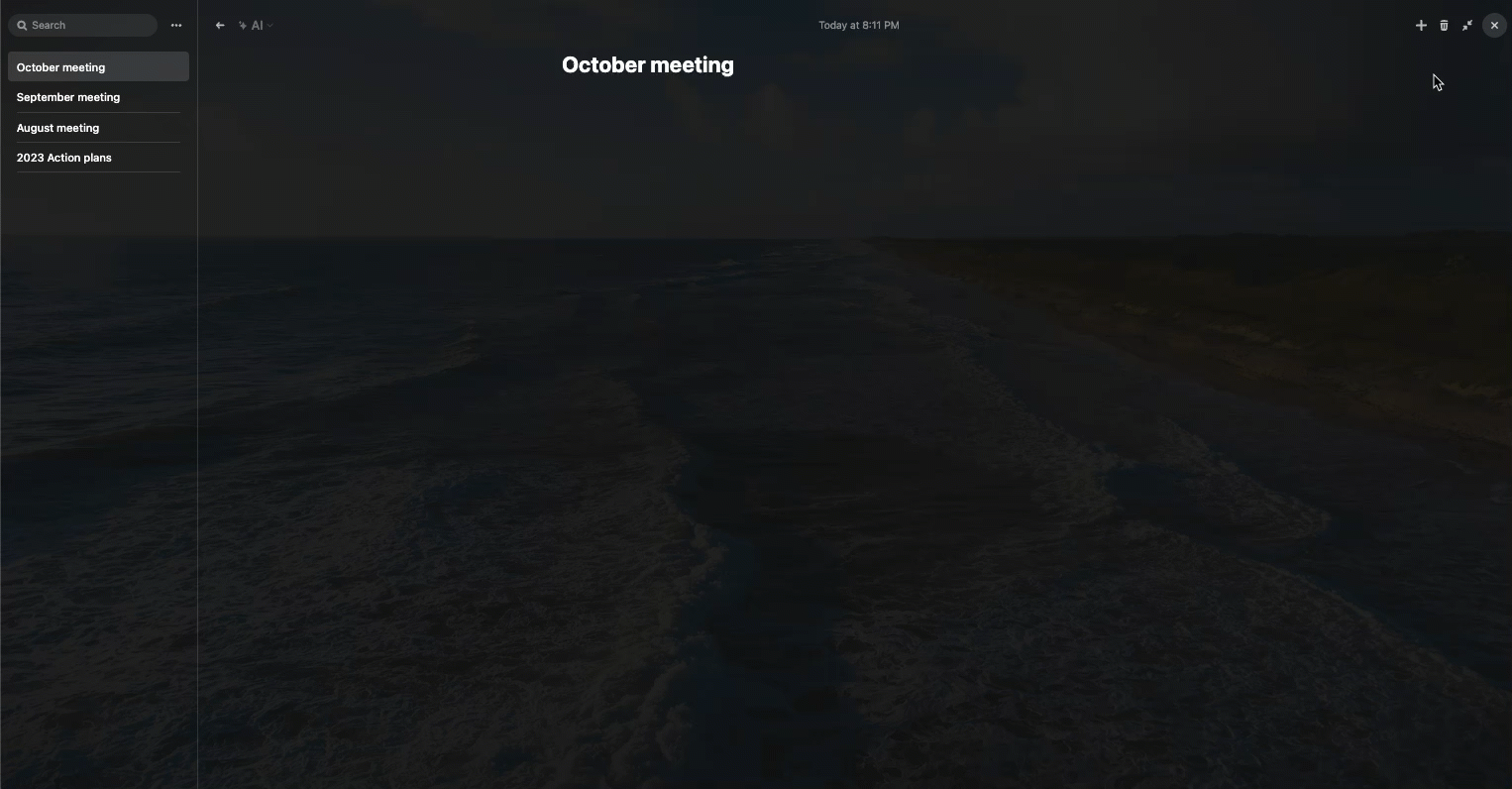 Show/hide sidebar
Click the arrow icon in the top left to toggle showing the sidebar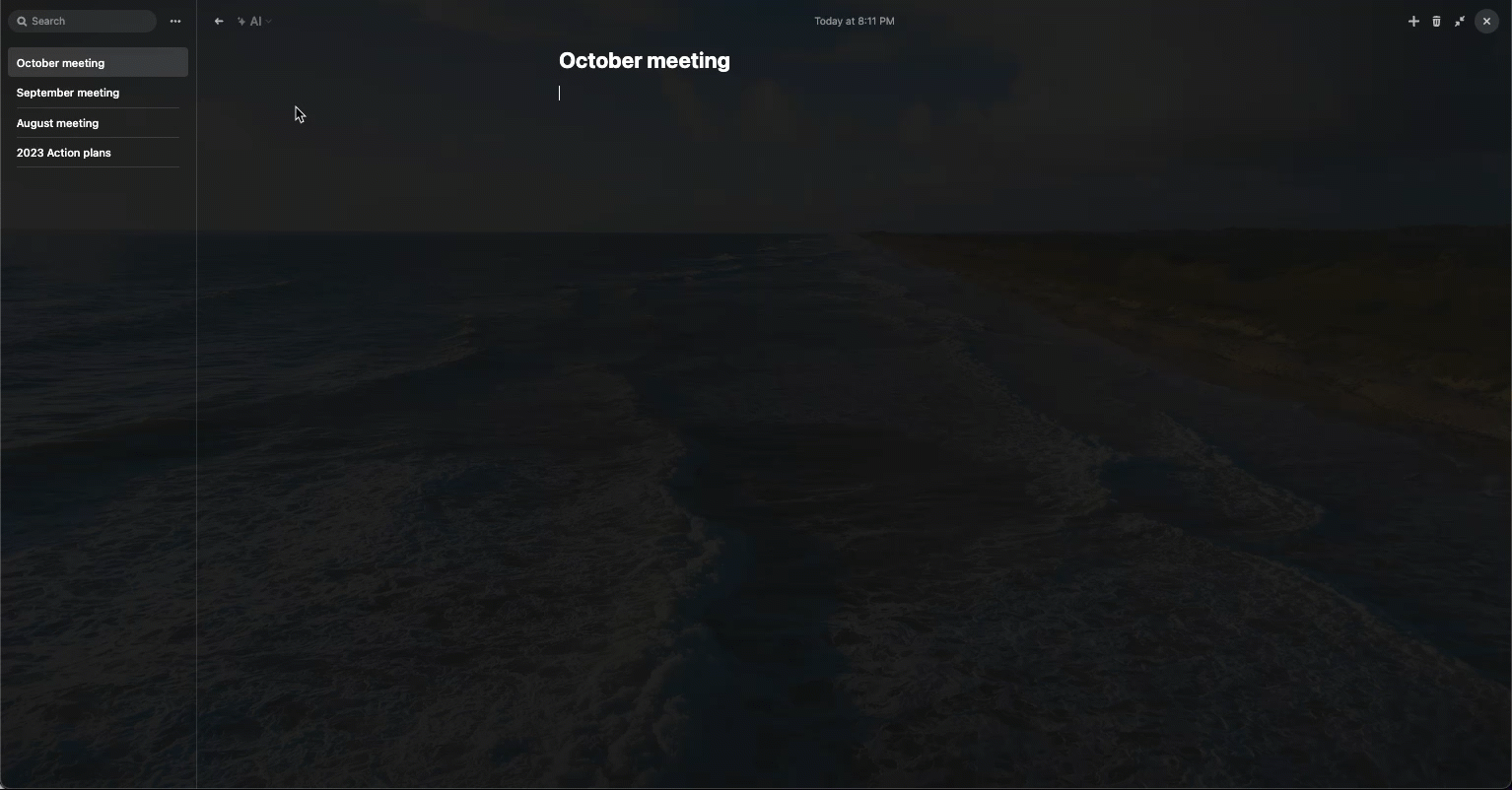 Fullscreen mode is sticky
Fullscreen mode is now sticky, so if you have fullscreen active and close Notes, it will remain in fullscreen the next time you open Notes.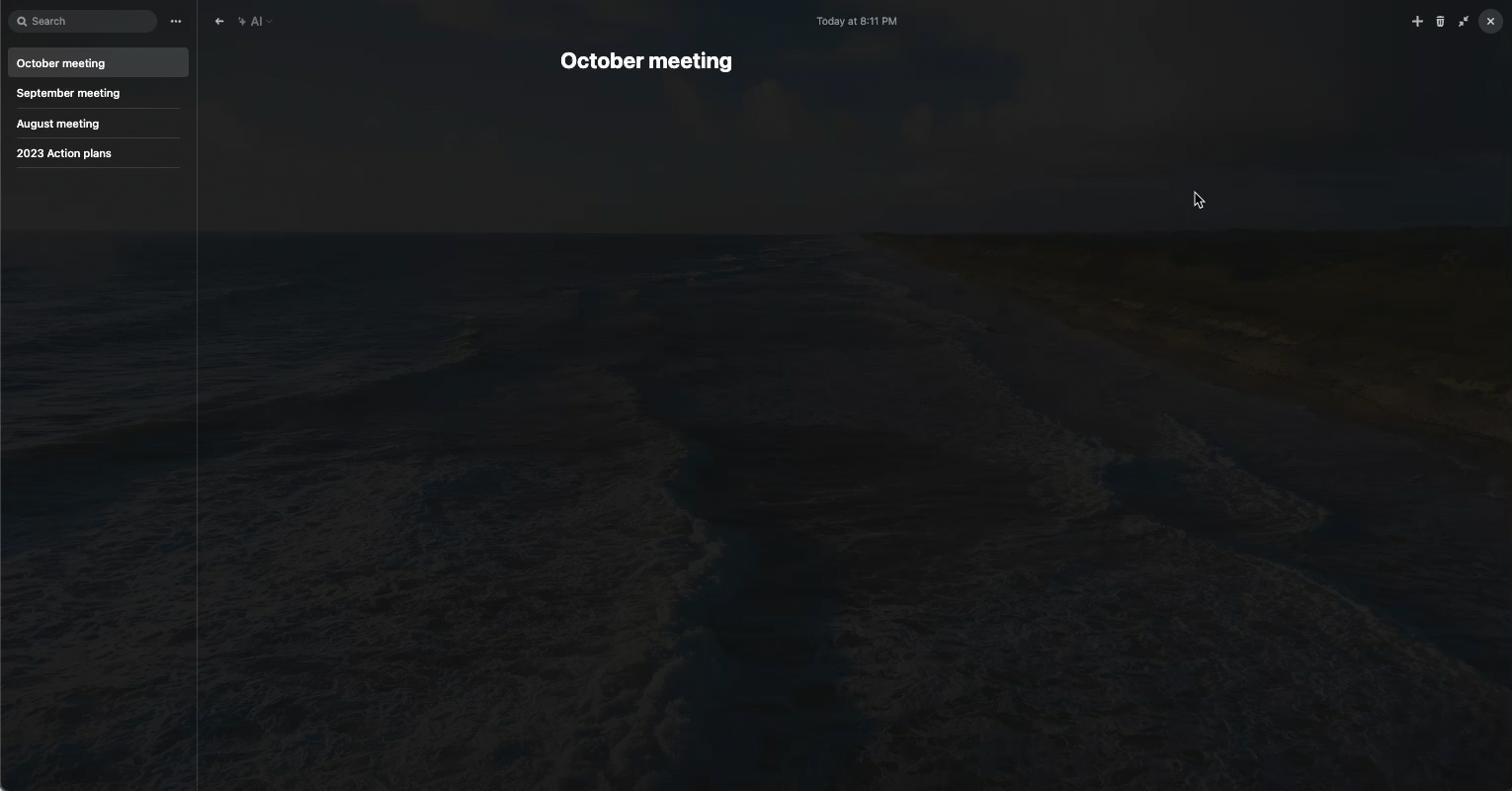 Rich-text formatting (WYSIWYG editing)

If you've ever spent time journaling, you've probably found ways to visually differentiate ideas with doodles and underlines. Rich text formatting helps you prioritize thoughts and make writing skimmable, just like writing in a standard word processor.
You can add headings, styling, lists, blocks, and lines to your notes to improve the style and structure. When you select any text, a toolbar will appear which allows you to apply styling or formatting. In addition to the toolbar, you can use markdown and hotkeys to format your notes:
Markdown
Is rich-text formatting slowing you down? 🏁 🏁
You can also add formatting by typing the correct symbols.
For example, # before text indicates a headline, and /text/ indicates italics. This is a great way to bake formatting directly into your writing without pausing to open the rich text formatting bar.
Markdown allows you to quickly format and style your note using simple symbols. See our Markdown guide for more info!
Hotkeys
You're probably already using hotkeys for things like screenshots, bold, zoom, and undo. But did you know you can create highlights with hotkeys in your Momentum Notes?
You can quickly add styling with the following hotkeys:
Bold: cmd-b
Italics: cmd-i
Underline: cmd-u
Strikethrough: cmd-shift-x
Highlight: cmd-shift-h
Links:

Highlight the text to get the link and hit cmd-k
You can also copy and paste (cmd-v) a link URL onto any text you'd like to turn into a link
You can also use markdown to quickly add formatting (and more)!
Note: On Windows machines, use the Windows key in place of cmd
Learn more about Momentum Hotkeys/Keyboard shortcuts.
AI-assisted writing/editing
This is one of the most exciting parts of our Notes feature!
We've added AI to turn your notes into your personal brainstorming assistant...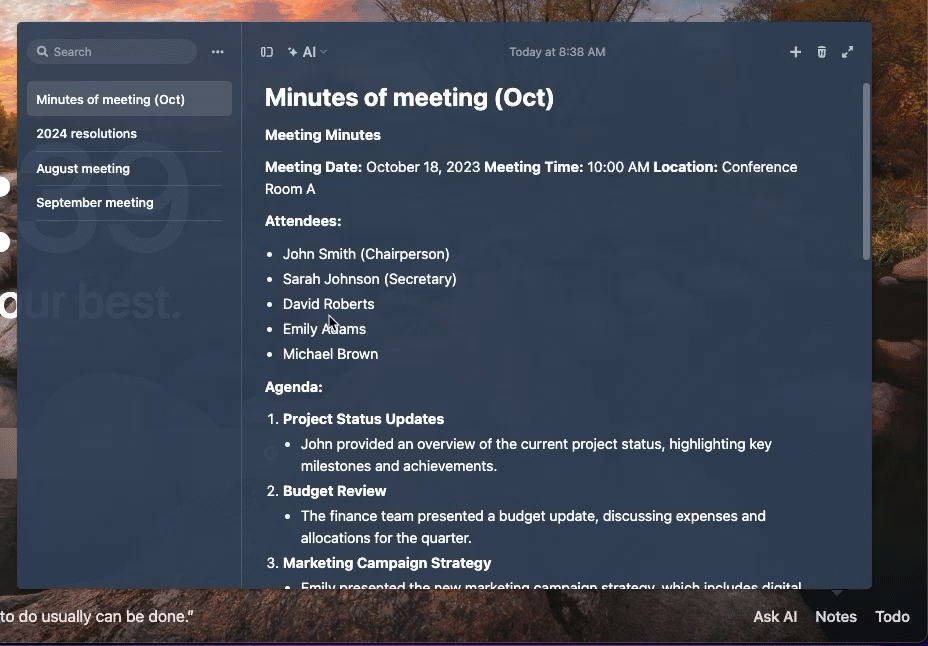 Generative AI has emerged as an extremely valuable tool that can help you write, outline, proofread, improve, summarize, simplify, expand your writing, and more.
To use:
Highlight text and click the AI 'magic sparkle' icon in the toolbar (Or click the AI button in the top left of the note to apply the editing to the whole note)
Choose from the list of actions the action you'd like to perform. The suggested text will appear, which you can choose to add to your note.
The possibilities of AI are staggering and endless! This is an experimental feature that we are looking to continue to evolve as the tool itself also continues to evolve. We welcome your feedback on this feature and how we can further improve it for you.
Please note that Generative AI has some limitations... play with it to see how it works best for you!
Two-way links
You can now use two-way note linking to connect your ideas and build up your own personal knowledge system (or "second brain") in Momentum. For more info, see our note-linking guide!
Titles
Wouldn't your brain feel tidier if each thought category had its own clear title? Tidy up thoughts and ideas with titles in Notes.
The top line of your note is the title, which will also appear in the note list in the left sidebar. If no title is set, a portion of the body of the note will appear in the sidebar until you set a title.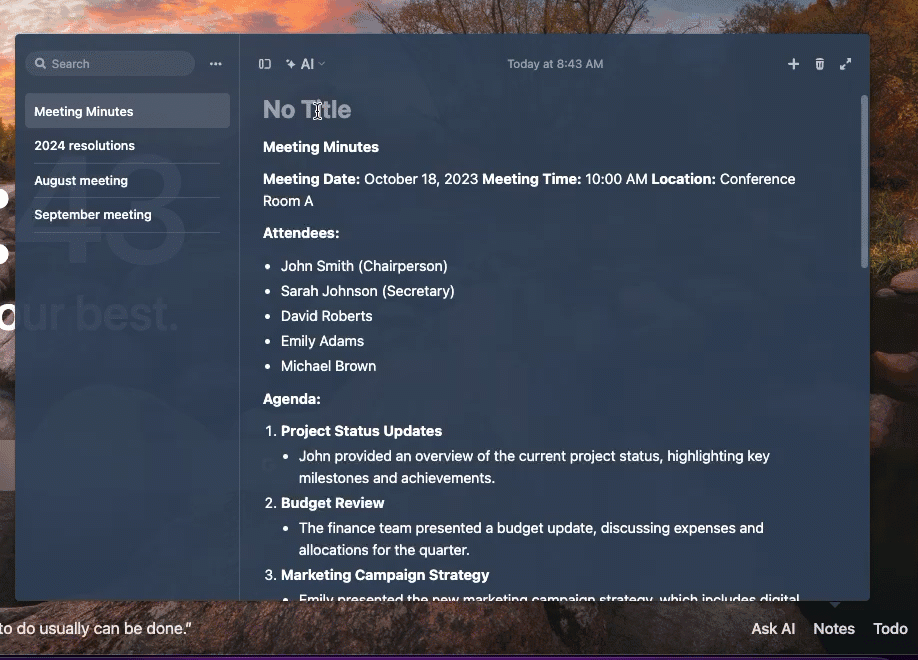 Hint: For fun titles, add an emoji! 💯
Related Help Articles:
Do you have specific questions?
If you have specific questions, please send us a message or reach out to us at +1 (250) 419 7669.