Use the lightning-quick power of AI to create, brainstorm, learn, and problem-solve directly from your dashboard
These days it seems like everyone is talking about AI. If you've wondered how to best utilize AI tools to streamline your workflow and be more productive, we've got good news! You can now interact with AI right in your new tab.
No more toggling tabs and copy/pasting all over the internet to leverage AI features in your work. With Ask AI inside your notes, you can brainstorm, create outlines, generate journal prompts, and flesh out your ideas all in your notes.
We're iterating and evolving this feature right now, so it will only get better. Here's how to start experimenting with an AI-augmented workflow right in your new tab.
Key features
Chat interface
Imagine a smart librarian available to answer your every question. In Notes, you can now engage with Ask AI just like you would in a conversation. Unlike search engine results, you can ask follow up questions to further clarify information, transform a response, or get totally new results. Experiment with different prompts to get the information in the format that's most helpful to you.
Easy access
Access the power of AI directly from your dashboard. No need to find the window or keep logging in to various services for different use cases. Simply open a new tab, and AI is there!
Private and secure
Worried about protecting your ideas?
Our implementation ensures that your data will not be used by or shared with OpenAI or Microsoft to train their models or use in any other way. This is a paid service provided by OpenAI and Microsoft, so AskAI is available to only Plus users right now. If you're not a Plus member, you can always upgrade to unlock this feature along with other exclusive benefits.
Plus feature
For now, Ask AI is among our suite of 20+ features for Momentum Plus users who have turned their new tab into a personal productivity dashboard. If you're itching to test an AI interface in every new tab, grab a free trial here and consider upgrading for $3.33 per month. You can see the full list of Plus features here.

→ Learn more about Momentum Plus
How to start using Ask AI
We know some of you are professionals with AI, and can probably turn your Ask AI feature into a full-service productivity butler. For everyone else who's just starting to get used to AI, don't feel intimidated. There are endless possibilities, but the best way to start is to expiriment when you hit a road block in your thinking or in your work.
To get started, there are three ways to use Ask AI:
Ask AI standalone app
Enable Ask AI in Settings → General → Labs

Open the Ask AI in the bottom right and send a message
Once enabled, you can open the Ask AI app with the a hotkey.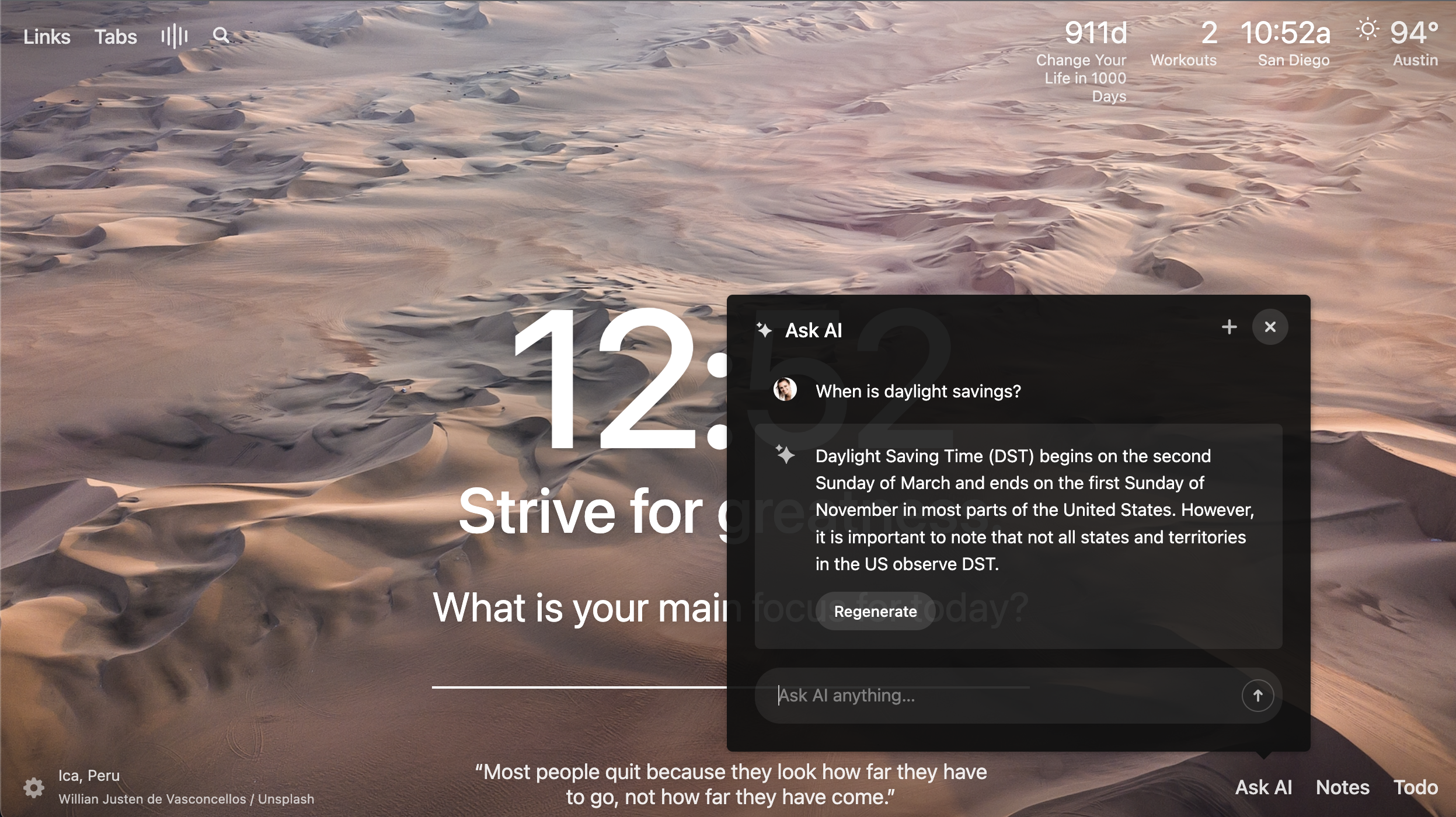 Search in center
You can initiate an Ask AI conversation using the center search by typing in your prompt and hitting cmd-enter.
Enable Search in Center in Settings → General → Labs
Type in a prompt and click the AI icon or use cmd-enter (or ctrl-enter on Windows) to submit

Ready to try out Ask AI on your dashboard? Grab a free trial here.
Limitations
Experimental technology
Please be aware this is experimental technology and, despite us all doing our best, can result in inaccurate, out of date, or inappropriate content. Please use your discretion. Do not rely on this technology for medical, legal, financial, or other professional advice—the information is informational only and is not a substitute for advice from a qualified professional.
History not available
Your conversation history is currently not ready, but when we release the feature your previous conversations will be available.
Token and request limits
As we are testing this feature out, we have placed limitations on the service to get a better idea of the volume and cost. There is currently a limit of 100 requests per day, and 500 tokens per response. If in your usage you encounter these limits, please get in touch (or email help@momentumdash.com) with your feedback.


Having problems with Ask AI?
If you're having problems with Ask AI, please send us a message. In your message, provide a description (bonus points for a screenshot or recording) of where you are stuck, what solutions you've tried, and what browser and operating system you're using.