Momentum Plus makes an excellent gift for students, professionals, and anyone else you think could benefit from a daily boost of inspiration, productivity and focus! 
On Momentum's Gift page you can purchase yearly Momentum Plus membership codes for friends, family, coworkers and even yourself! The membership period of a Momentum Plus gift code starts as soon as it has been redeemed on the Momentum's Redeem page.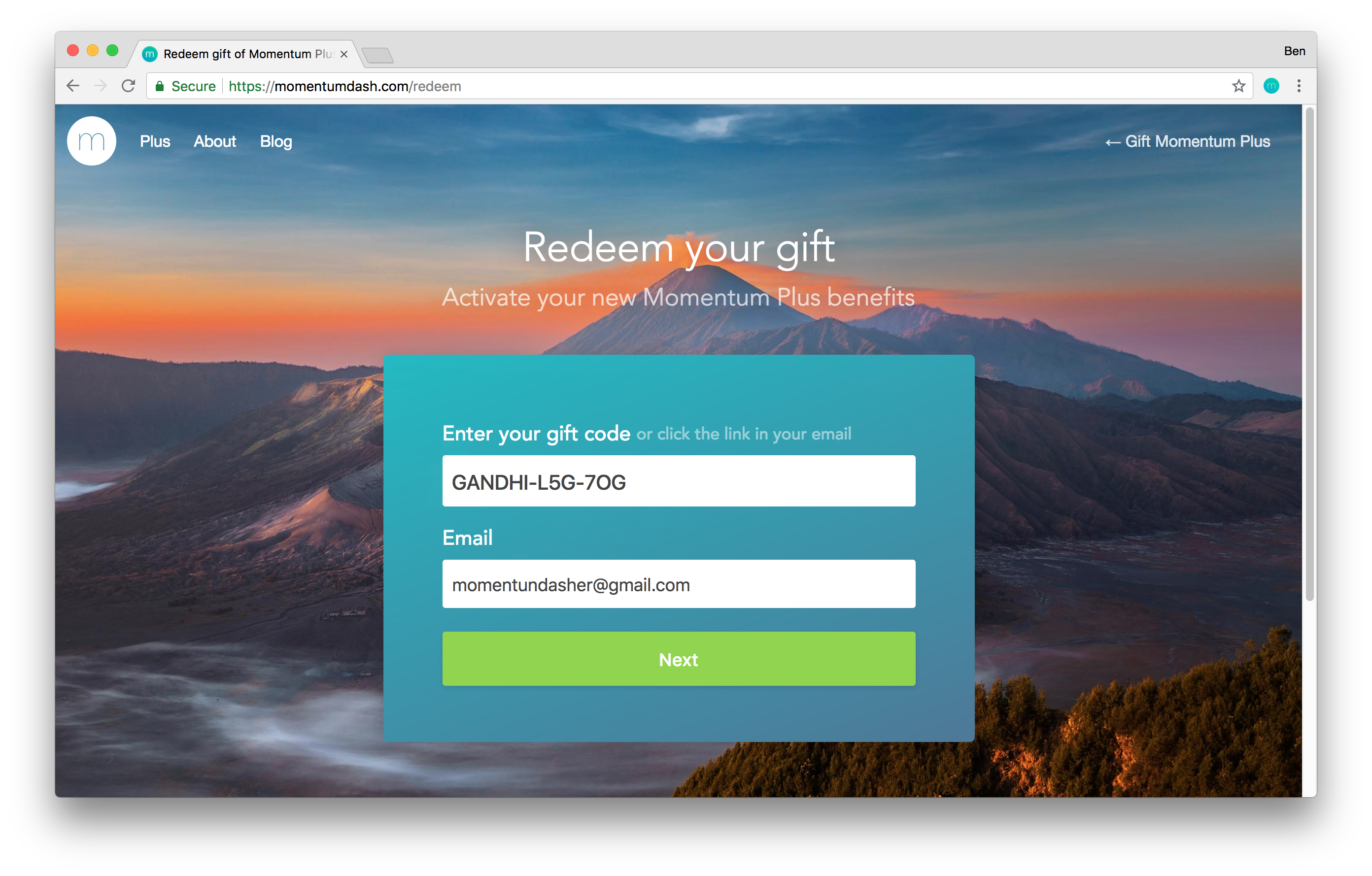 In this article you will learn...
You can buy single or multiple Momentum Plus gift codes on Momentum's Gift page.
Visit Momentum's Gift page.
Click Login next to 'Already have an account?', and then login to your Momentum account. 
• If you don't already have a Momentum account, you can use this login form to create a new one. 👍
Once logged in, fill out the required payment info.
• If you've added a Credit Card to your Momentum account before, it should be saved. If you want to use a different card, click "Use other credit card" next to your saved card.
Select the number of yearly Momentum Plus memberships that you want to buy from the drop down list. 
Click the Buy Gift button. Your gift code(s) will show on the screen right away!
Redeeming a Momentum Plus gift
Once you have your unique Momentum Plus gift code, you can redeem it on Momentum's Redeem page.
Once you have a gift code, visit Momentum's Redeem page.
Paste (or type) the gift code in the space provided.
Type in the email of the Momentum account that you want the gift code to be redeemed on.
Click the Next button.
• If you don't already have a Momentum account with this email, you will be asked to Choose a Password. Type in a new password in the space provided. You will use this password and email combination to login to Momentum. Check your email for an account verification message after redeeming your gift code. 
Click Yes, Redeem.
Getting the most out of Momentum Plus
Momentum Plus has a lot of useful features, take a look at our Intro to Momentum Plus guide for an overview of all of them—you might discover some that you didn't know about!
To start using your Momentum Plus benefits, simply login to your Momentum Plus account. 
Logging in to your Momentum Account
Open up a New Tab in your browser.
Click on the Settings icon at the bottom left corner of your Momentum Dashboard.
Click Log In at the bottom left corner of the settings menu.
Type in/enter the email and password that you used to create a Momentum account with on the login page(s). 
Having problems buying, finding or redeeming a code?
If you purchased a gift code, but can't find it, visit the Gifts section of your Momentum account page.
If someone else purchased a gift code for you, ask them to visit the Gifts section of their Momentum account page, so they can share the gift code with you.
If you're having any other problems buying, finding, or redeeming a gift code, or have questions about Momentum Plus at all, send us a message at help@momentumdash.com. We're happy to help however we can. 👍