Visit Momentum's Settings ⚙️to adjust or hide certain features, change the search provider, view your past or favorited mantras/photos/quotes, discover new benefits and much more!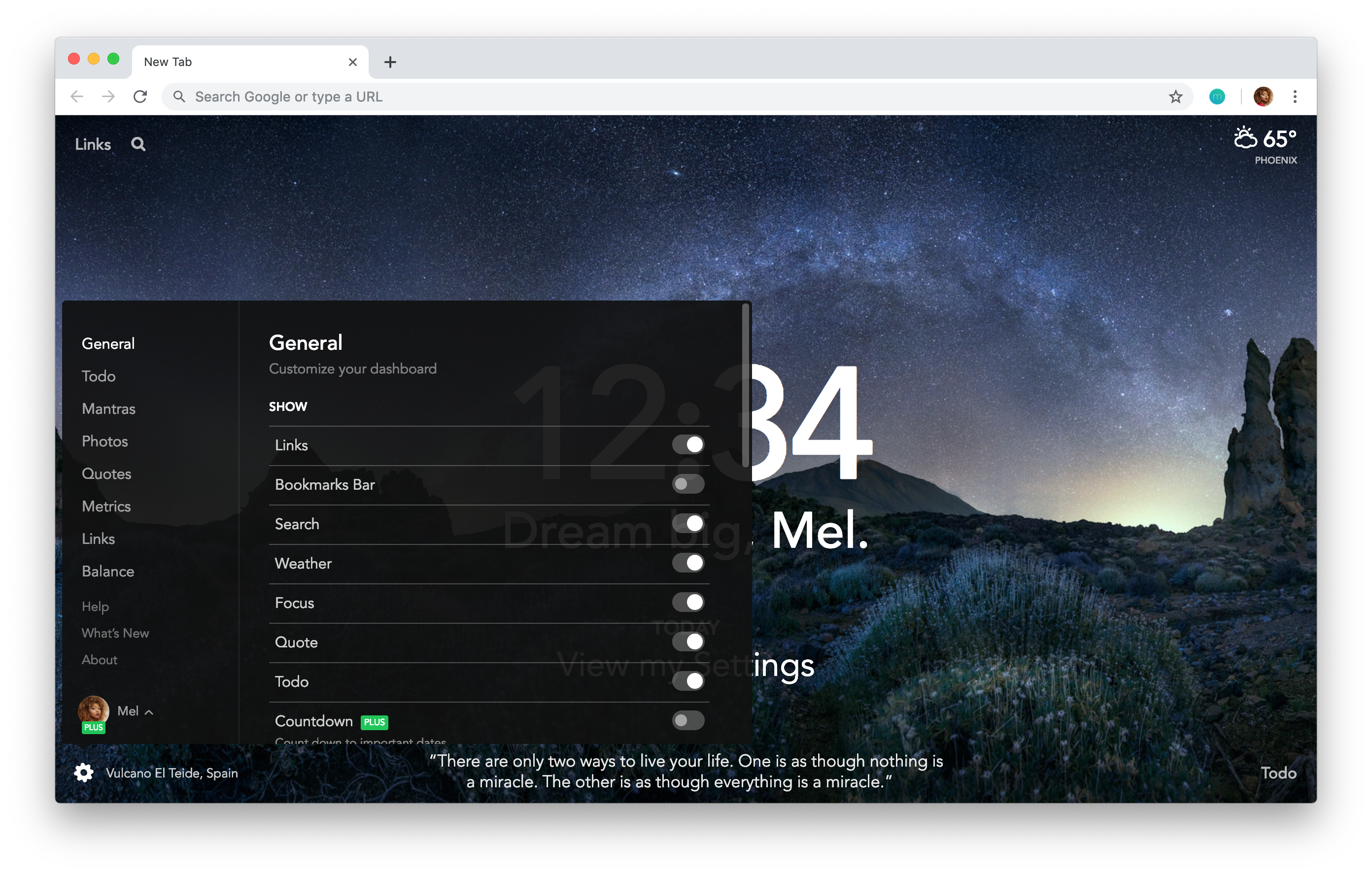 In this help article you will learn...
Accessing and navigating Momentum's Settings
To access Momentum's Settings, click the ⚙️ icon at the bottom left corner of the dashboard. Clicking the different categories on the left side of the Settings menu (e.g. General, Todo, Mantras, etc.) will display additional information and customization options.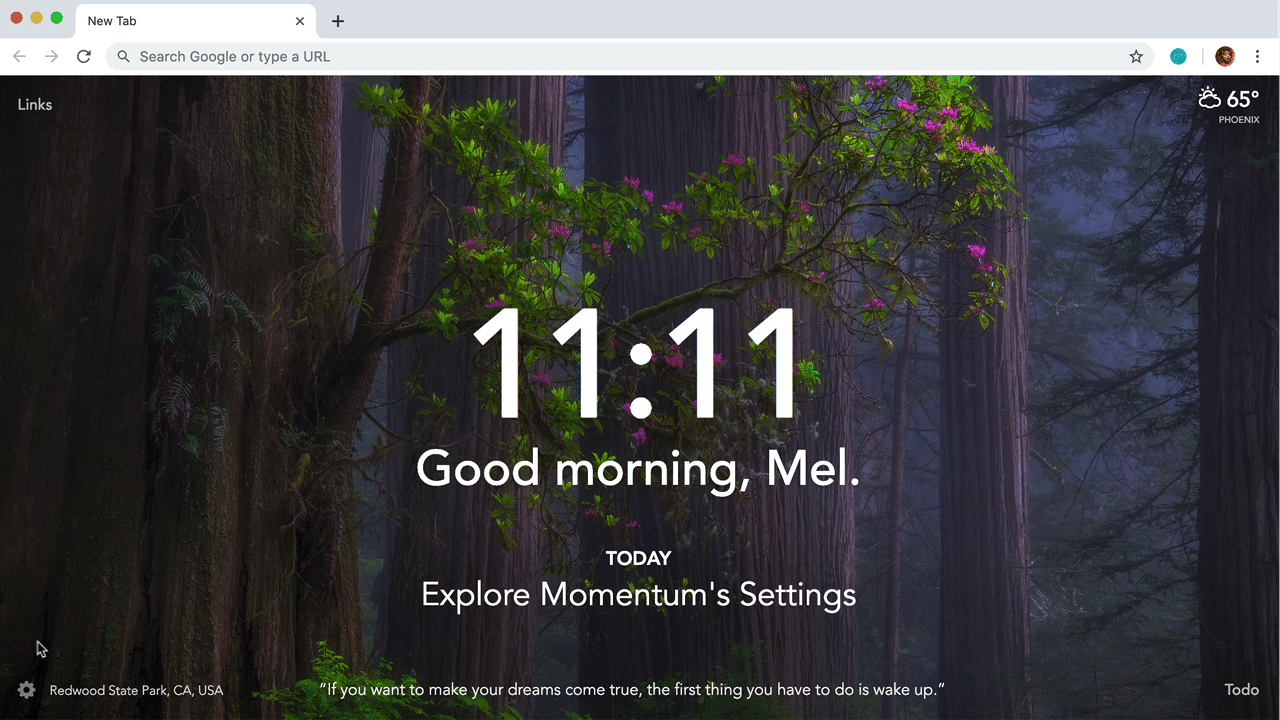 Showing/hiding dashboard features
To show or hide certain dashboard features, visit the General settings and click on any of the switches underneath the Show heading.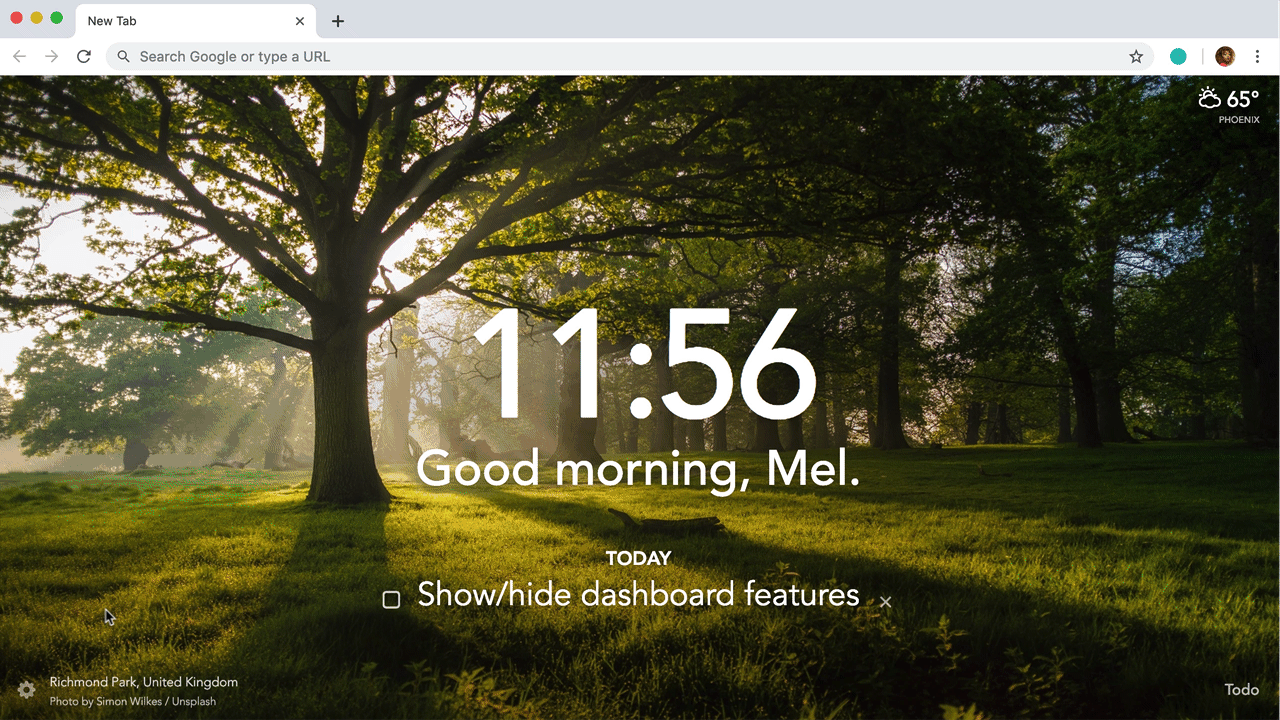 Momentum's default search provider is Bing. To change the search provider to Google (or back to Bing), visit your General settings, scroll down to the Search Provider option and then click Google or Bing.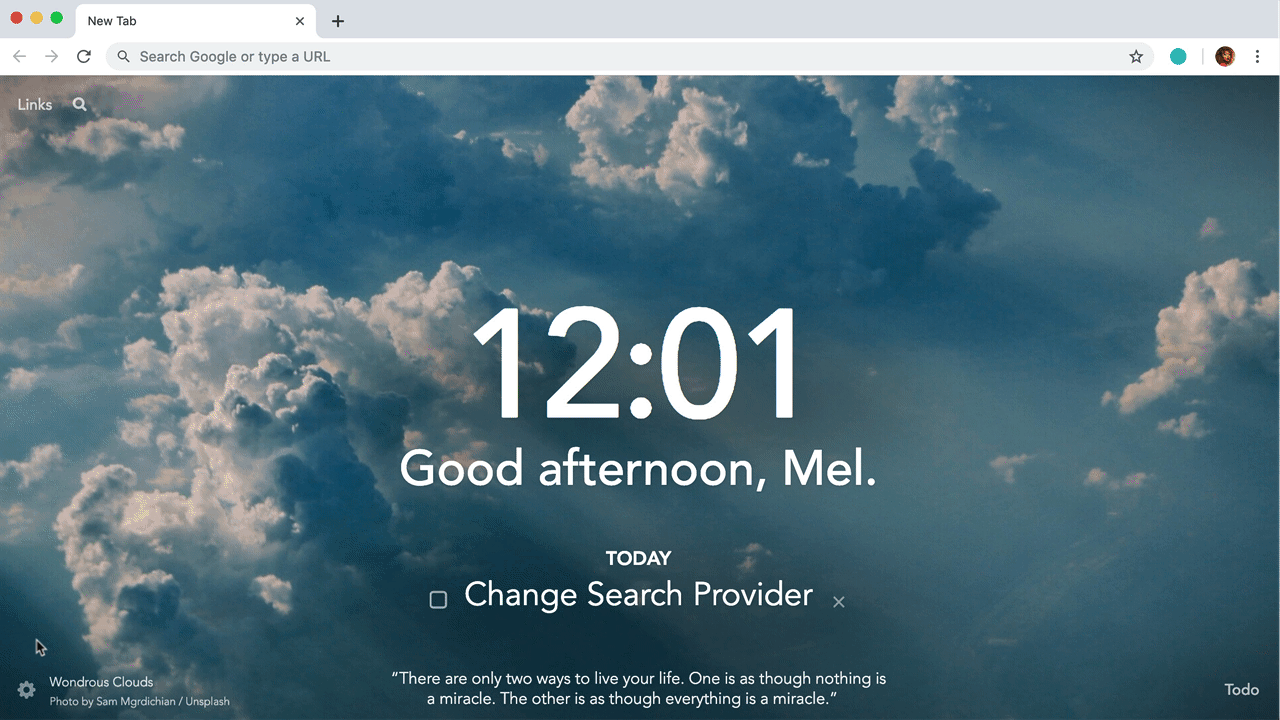 Viewing your favorited and past Mantras, Photos and Quotes
To see a list of your favorited and past content, open your settings, click Mantras, Photos or Quotes on the left of the Settings menu, and then click the Favorites or History tab.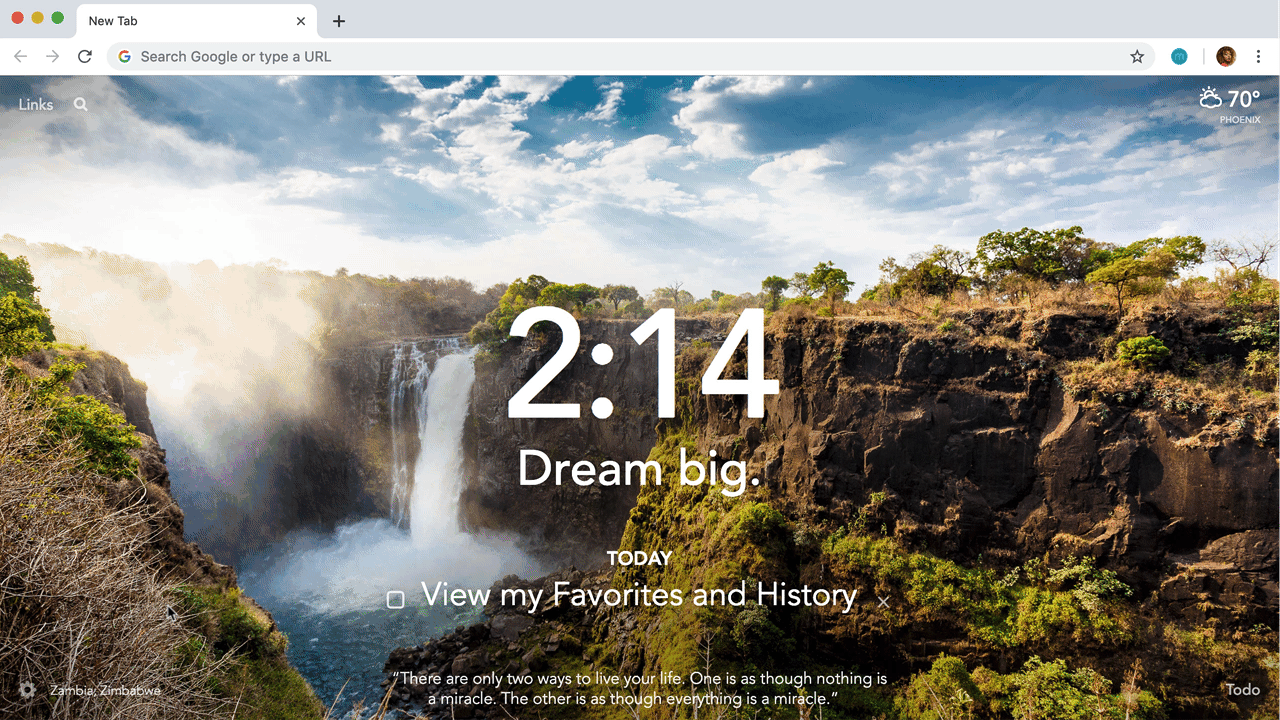 In Momentum's Settings ⚙️you'll see a green Plus badge next to some features and options, these benefits are exclusively available to Momentum Plus members. 
Countdown
Countdown lets you to add upcoming events to your dashboard and see the time left until they arrive.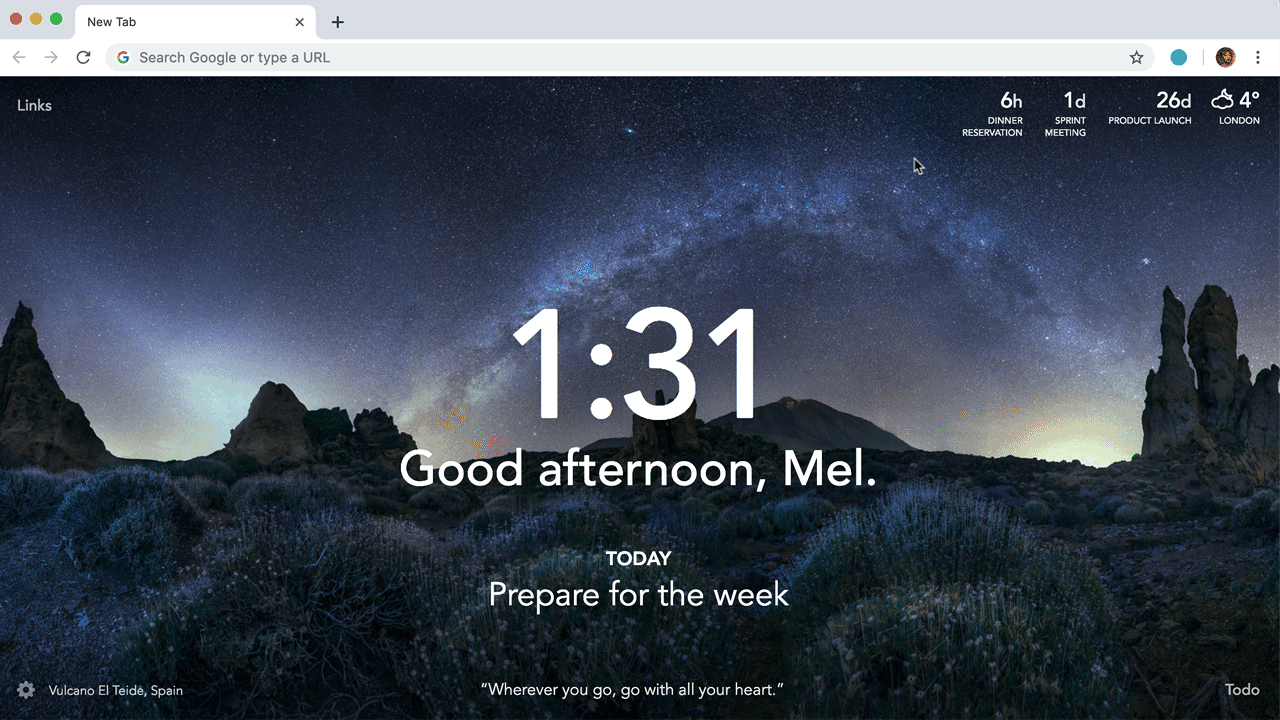 Notes
Notes is a simple text editor that allows you to create, edit and store textual tidbits that don't quite fit the Todo list format.
World Clocks
World Clocks lets you add time zones of other locations directly on your dashboard.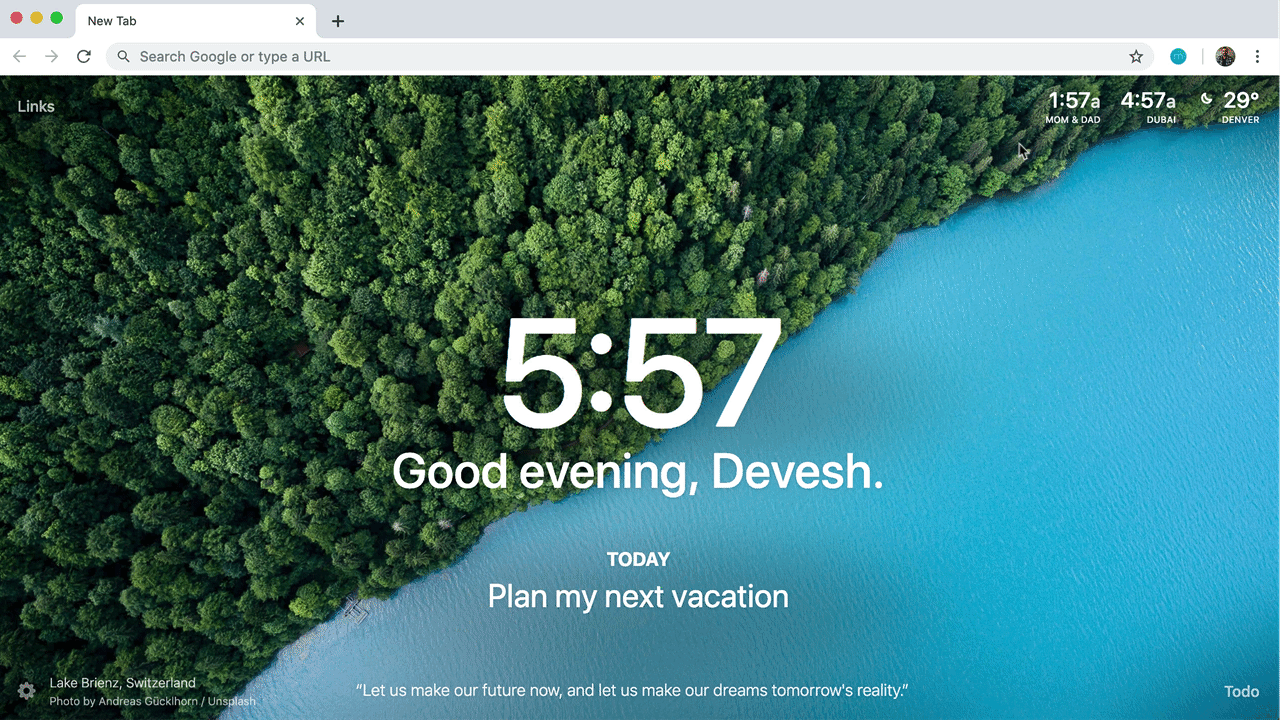 Theme
The Theme customization option lets you change the color and transparency of Momentum's menus from the default Dark mode to Light, or any color you want!
Font & Theme Customization
Add your own personal touch by changing the font and theme (i.e. menu) colors.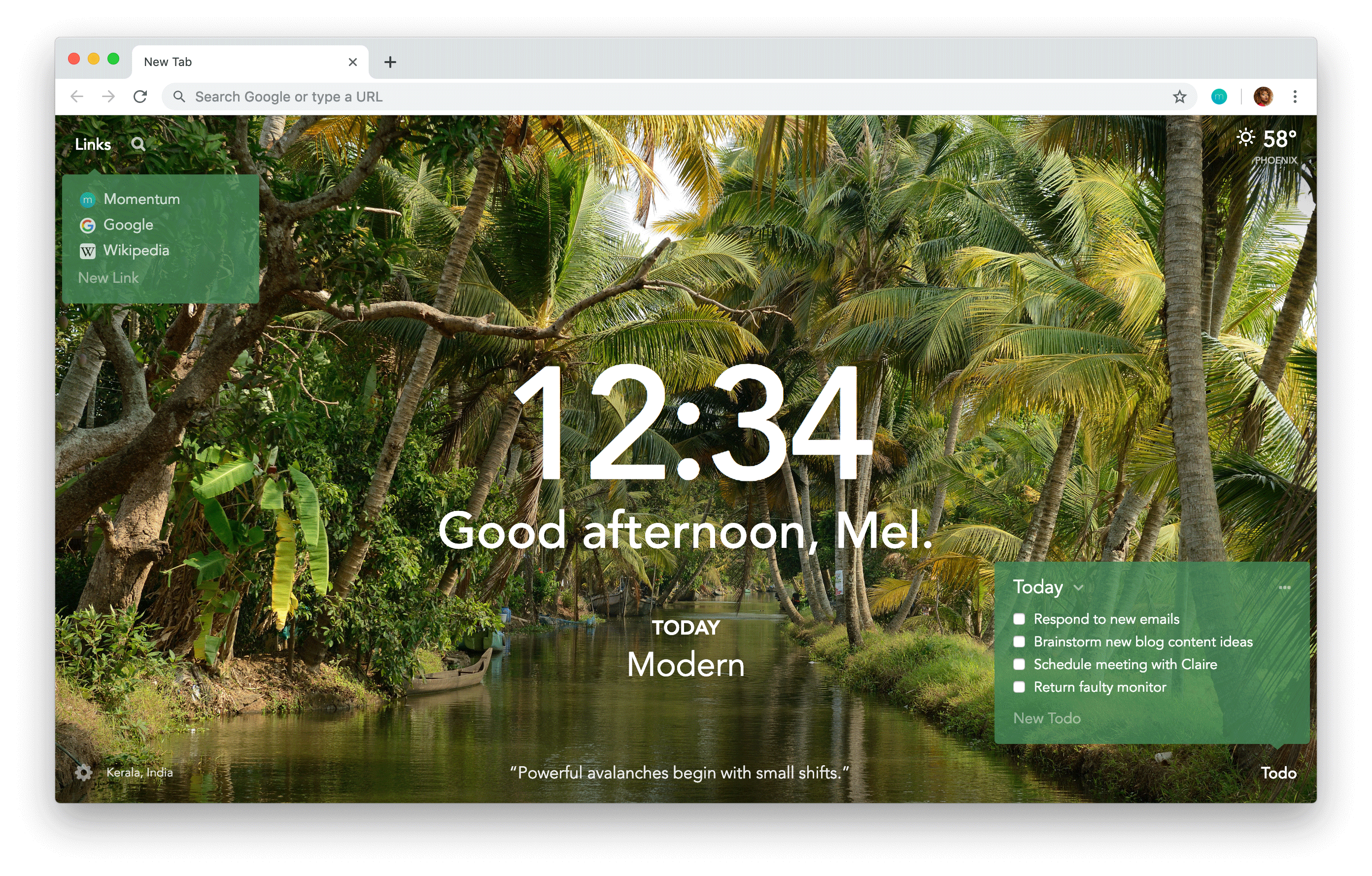 Autofocus
Autofocus connects your Todo list to your Focus. After completing your active focus it is replaced with the next item on your Todo list.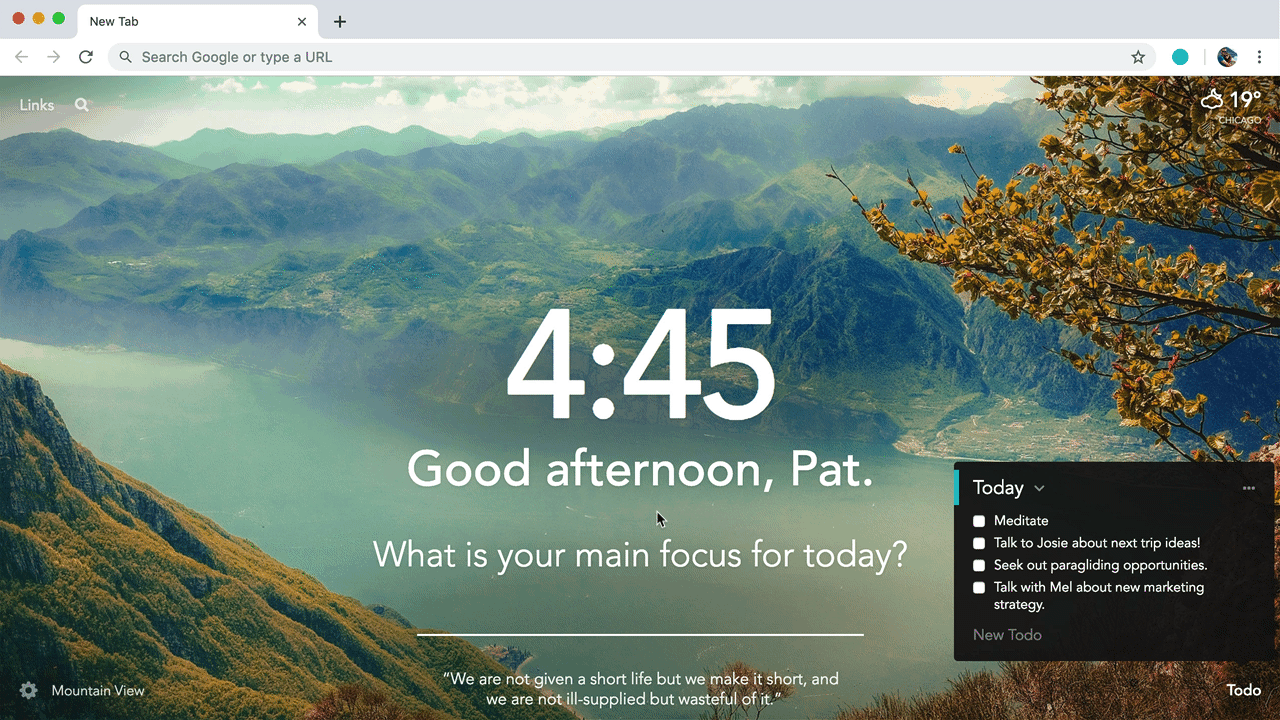 Muti-Todo Lists
Multi-Todo Lists let you go beyond the default Inbox, Today and Done lists, and add your own custom lists.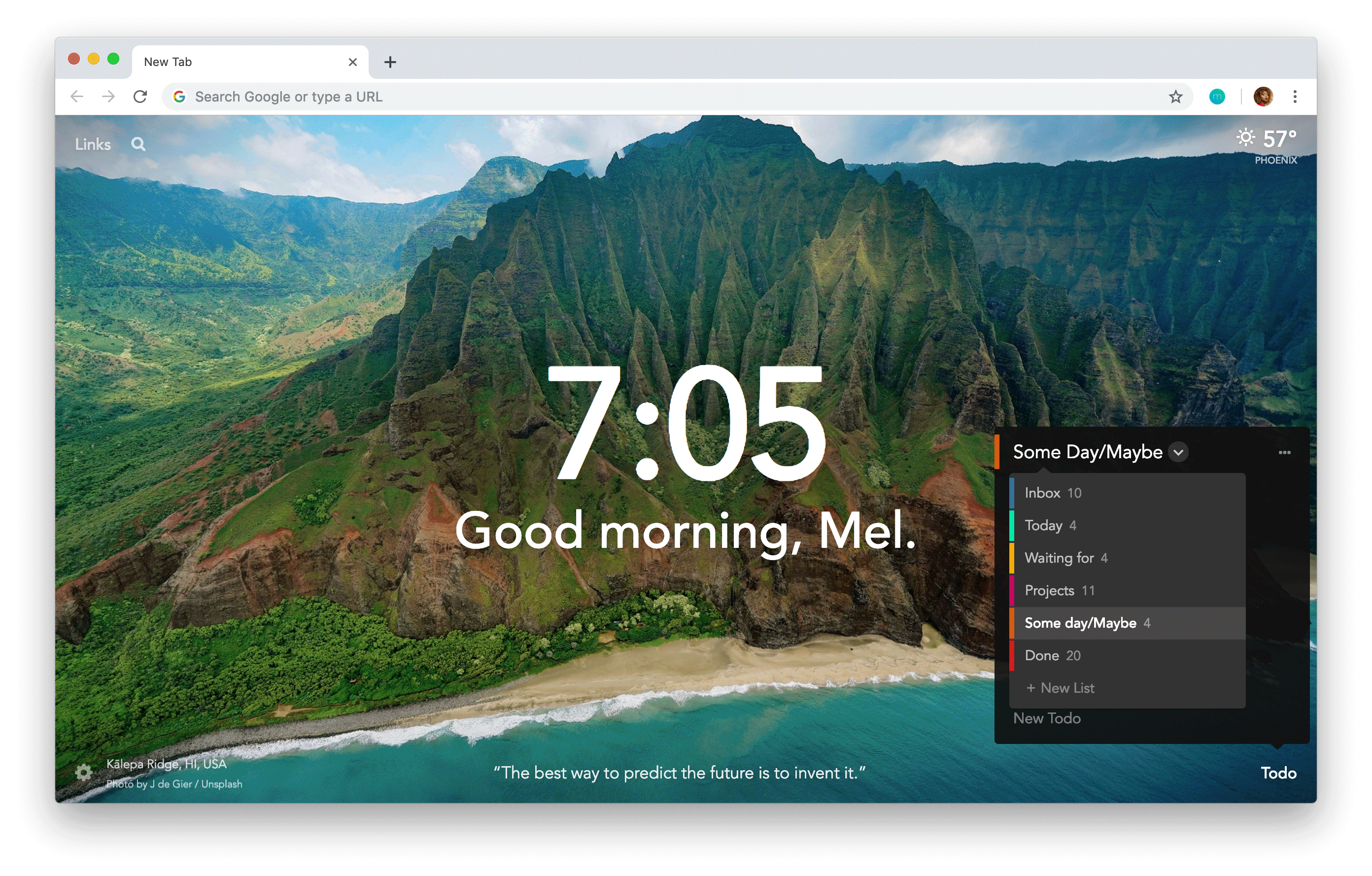 Todo integrations
Momentum's Todo integrations let you manage your Asana, Todoist, Trello, Google Tasks, Wunderlist, BitBucket, GitHub or Basecamp 3 tasks/todos with Momentum's Todo.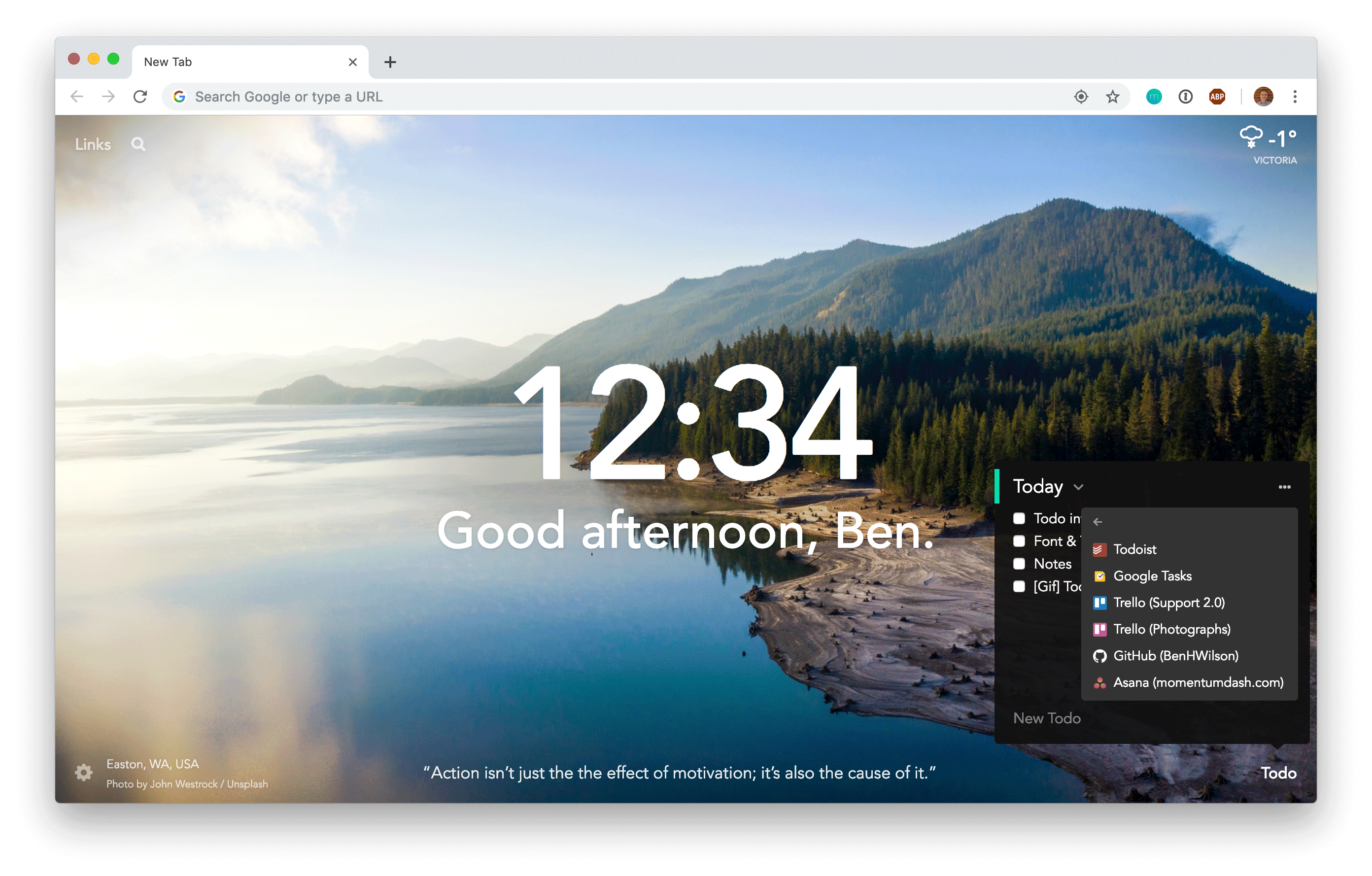 My Mantras, Photos & Quotes
My Mantras, My Photos and My Quotes let you personalize your dashboard by adding your own custom photos, mantras and quotes. Plus members can also change/skip their Momentum mantras, photos and quotes whenever they like.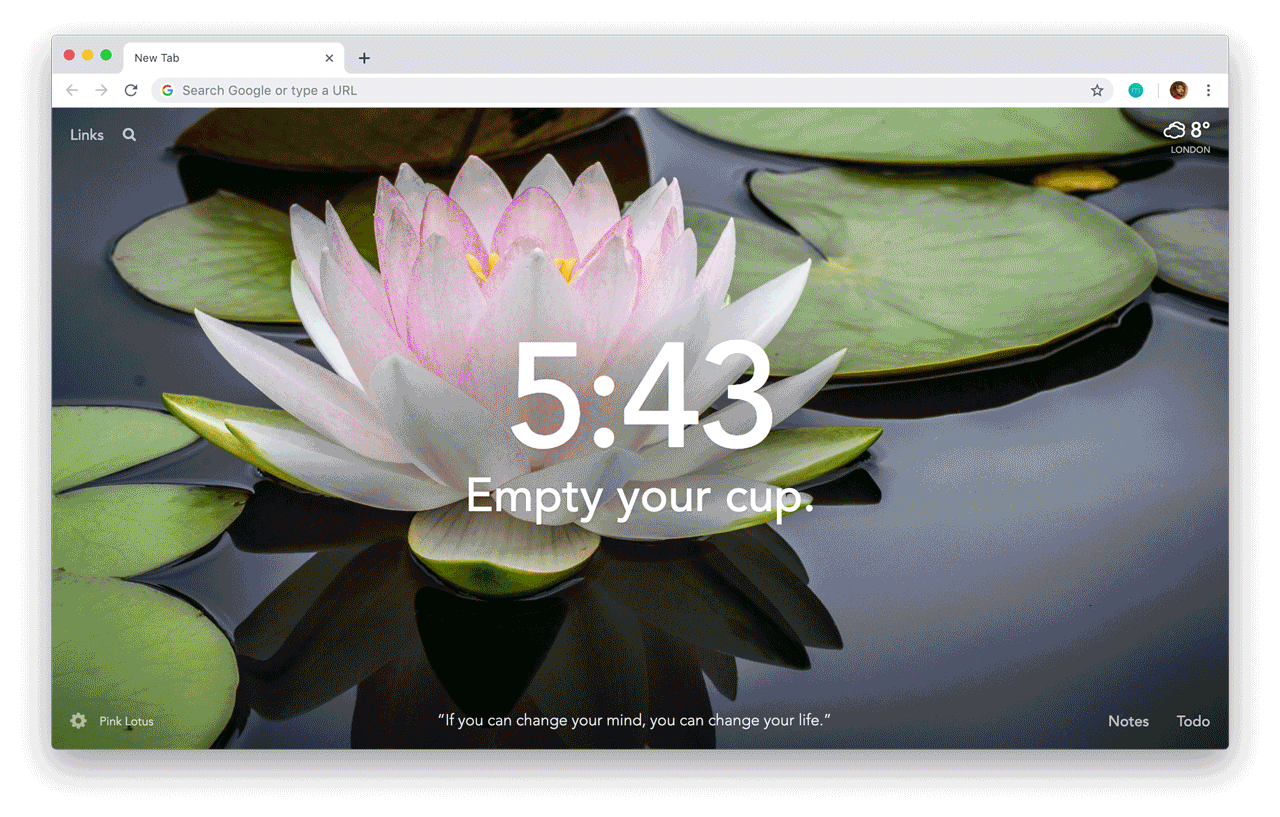 Metrics
Metrics let you add and keep track of certain information on your dashboard. Momentum currently has Metrics for your FitBit step count and Todoist Karma.
Balance/Percent Clock Customization
The Balance mode customization options let you change the time range and days that that Balance mode and the Percent Clock display. 
If you're interested in these extra Momentum features and options, upgrade to Plus today!